FRANKFORT, KY (February 13, 2020)—Patient cost for a month's supply of insulin in Kentucky would be capped at $100 under a bill approved today by a House committee.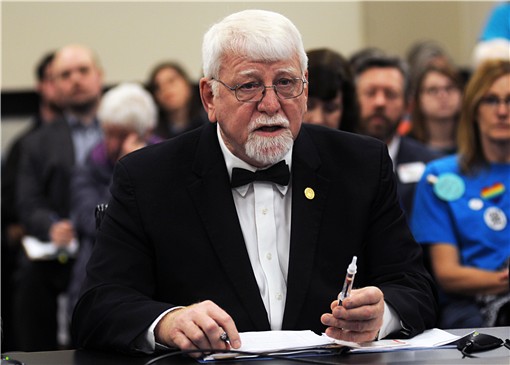 House Bill 12 sponsor Rep. Danny Bentley, R-Russell, presenting the insulin cost-saving measure for a vote.
House Bill 12, sponsored by Reps. Danny Bentley, R-Russell, and Steve Sheldon, R-Bowling Green, would require health insurance plans to cap the patient cost for a 30-day supply of a prescription insulin drug to $100 "regardless of the amount or type of insulin needed to fill the covered person's prescription," per the bill. The legislation, approved today by the House Health and Family Services Committee, would take effect next year.
Bentley said the bill would help nearly half a million diabetics in Kentucky afford the life-saving drug which he said can cost $1200 a month or more per patient.
"It's a $6 billion industry," said Bentley, a licensed pharmacist. "It's really interesting that this hormone produced by the body has been so difficult to get because of the high price now."
Speaking in support of HB 12 alongside Bentley was AARP Kentucky State President Charlotte Whittaker who commented on the high cost of diabetes in Kentucky. Whittaker said the effect of the disease is most evident in East Kentucky where the death rate from diabetes is 32 percent higher than the national rate.
"Prescription drugs don't work if you can't afford them," she told the committee.
HB 12 now goes to the full House for consideration.
END