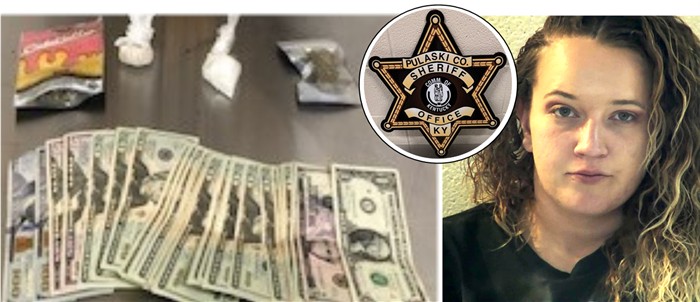 Contraband/Pulaski County Sheriff's Office - Spencer Silvers/Pulaski County Detention Center
SOMERSET, KY - According to Sheriff Greg Speck, Spencer Renea Silvers, age 25, of Concord Road, Richmond, Kentucky, was arrested following a traffic stop on East Highway 80 in Pulaski County.
On June 25, 2020, Deputy Brandon Smith stopped a 2014 Cadillac for a traffic violation. The Sheriff's Office had previously received a tip that this vehicle was being operated by Ms. Silvers and was transporting a substantial amount of Heroin. Lieutenant Daryl Kegley and Detective Matt Bryant also assisted in the traffic stop.
Deputy Smith deployed K9 Leo, who alerted to the presence of illegal narcotics. While investigating and interviewing the occupants of the vehicle, the Deputies located approximately 16 grams of suspected Heroin and approximately 28 grams of suspected Cocaine. The Deputies also located and seized $727 in cash.
Spencer Renea Silvers was arrested and charged with:
Trafficking in a Controlled Substance, 1st Degree, 1st Offense (More than 2 grams of Heroin but Less than 100 grams)
Trafficking in a Controlled Substance, 1st Degree, 1st Offense (More than or Equal to 4 grams of Cocaine)
Unlawful Transaction with a Minor, 2nd Degree (juvenile was in the car with her)
Ms. Silvers was transported to the Pulaski County Detention Center and is currently lodged at the time of this press release.
This case remains under investigation by Lieutenant Daryl Kegley from the Narcotics Division of the Sheriff's Office and Detective Matt Bryant with the Sheriff's Office Criminal Investigation Division.
Sheriff Greg Speck asked that if you have any information about drug activity or any crime to contact our office.
You can also leave a tip on our webpage at http://www.pulaskisheriff.com/. You can remain anonymous.
Contact: Major Jeff Hancock
606-678-5145