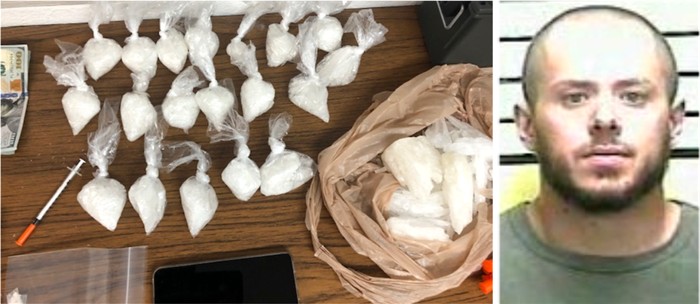 STINKING CREEK, KY - The Knox County Sheriff's Department is reporting that: On Sunday July 12, 2020 at approximately 7:30 PM Knox County Deputy Bobby Jones was patrolling on Highway 223 in the Stinking Creek area when he observed a vehicle swerve off the roadway.
The deputy then conducted a traffic stop on the 2016 Nissan Altima.
Deputy Jones arrested 29 year old Jacob Slusher of Pineville, KY for:
Reckless Driving
Failure to Produce Insurance Card
No Registration Receipt
During the arrest, Deputy Jones located approximately two pounds of suspected Methamphetamine with an approximate street value of $30,000. The Meth was packaged in individual one ounce packs.
In addition to the Meth, a small quantity of Xanax, several syringes and approximately $1,500 in cash were also located.
Jacob Slusher was lodged in the Knox County Detention Center also charged with:
Trafficking controlled substance 1st degree 1st offense greater than two grams (Methamphetamine)
Possession of controlled substance 1st degree (drug unspecified)
Possession of drug paraphernalia