LONDON, KY - Laurel County Sheriff John Root is reporting that: Laurel Sheriff's Deputy Allen Turner along with Lieut. Chris Edwards, Detective James Sizemore, and Deputy Jamie Etherton arrested Shawn L. Brewer age 43 of Collins Wood Trail, Pine Ridge, KY.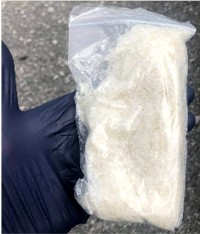 The arrest occurred on Saturday morning September 12, 2020 at approximately 11:53 A.M. off Rockcastle River Forestry Road off I-75 approximately 9 miles north of London following a traffic stop conducted on a white Chevrolet Impala where deputies found a large quantity of a crystal like substance suspected to be crystal Methamphetamine and a large sum of US currency.
Shawn Brewer was charged with:
Trafficking in a controlled substance – first-degree – first offense – Methamphetamine
Possession of Drug paraphernalia

This individual was lodged in the Laurel County Correctional Center.
Inset photo of the accused is courtesy of the Laurel County Correctional Center.
Assisting the sheriff's office at the scene was London City Police K-9 officer Jacob Bormann whose K-9 alerted on the vehicle during the investigation.
Laurel County Sheriff John Root (left) stated that drug investigations and arrest will continue in Laurel County.