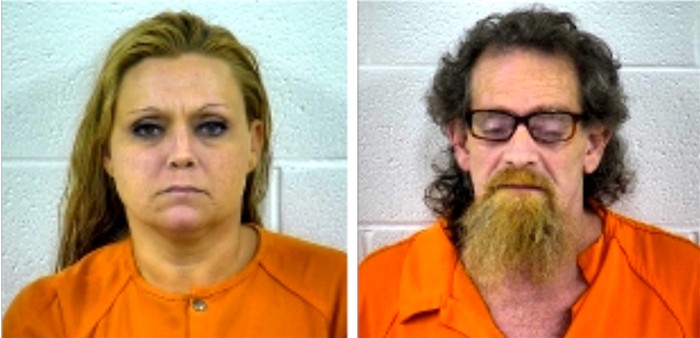 LONDON, KY - Laurel County Sheriff John Root is reporting that: Laurel Sheriff's Deputy Brent France arrested two individuals on Tuesday night September 8, 2020 at approximately 9:58 PM.
The arrests occurred in a business parking lot off West Laurel Road approximately 5 miles west of London after deputies were dispatched to a complaint from Laurel 911 dispatch that a silver car with a male and female subject inside appeared to be passed out and had been sitting in the parking lot for over two hours.
Upon arrival at the scene deputies noted a female subject passed out in the driver seat, engine running and vehicle in the drive position.
After numerous attempts to awaken the driver she exited the vehicle causing the vehicle to roll into traffic. Deputy France quickly entered the vehicle to put it in the park position.
Upon awakening the passenger and as he exited the vehicle the passenger threw a blue prescription bottle into the grass attempting to conceal Oxycodone. Marijuana fell out of his pocket as well.
An investigation was conducted where the driver stated she had taken Oxycodone, Xanax, and Suboxone. This subject was in possession of Oxycodone not prescribed to her.
Both occupants were determined to be under the influence.
The two arrested individuals were identified as:
The driver – Melanie Denise Gregory age 39 of Arlington Green, London charged with:
Operating a motor vehicle under the influence – first offense
Possession of a Controlled substance
Possession of Marijuana
Failure to wear seatbelts
Failure to produce insurance card
The passenger – Conley James Hicks age 57 of Park Ave., Manchester charged with:
Possession of a Controlled substance
Public intoxication – controlled substances
Possession of Marijuana
These two individuals were lodged in the Laurel County Correctional Center.
Photos of accused attached are courtesy of the Laurel County Correctional Center.
Deputies assisting on the investigation and arrests included: Shift Sgt. Greg Poynter, Deputy Travis Napier, Deputy Hunter Disney, and Deputy Dustin Saylor.
Laurel County Sheriff John Root stated that drug arrests will continue in Laurel County.