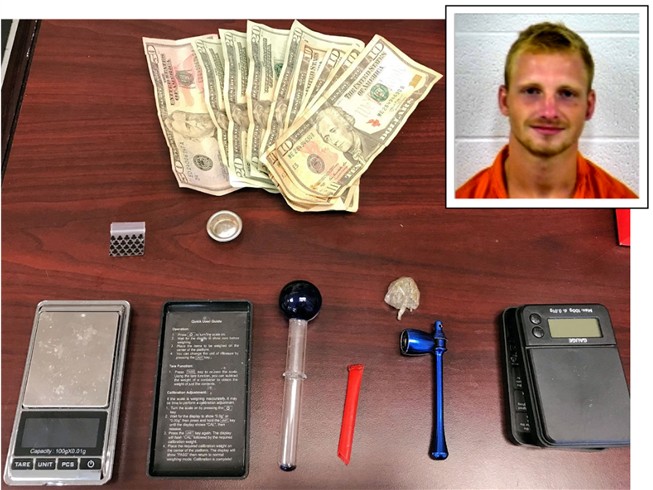 LONDON, KY - Laurel County Sheriff John Root is reporting that: Laurel Sheriff's Detective Taylor McDaniel arrested Steven Lynch age 24 of Collins Lane, Corbin on Wednesday morning September 9, 2020 at approximately 9:49 AM.
The arrest occurred off Highway 770 approximately 10 miles South of London while deputies were investigating a drug trafficking complaint out of a motel room there.
Deputies found this subject in a room in possession of suspected Methamphetamine, digital scales, glass pipe, and a bag of Marijuana.
Steven Lynch was charged with:
Trafficking in a controlled substance – first-degree – first offense – Methamphetamine
Possession of Drug paraphernalia
Possession of Marijuana
This individual was lodged in the Laurel County correctional center.
Photo of accused attached is courtesy of the Laurel County Correctional Center.

Assisting on the investigation were: Laurel Sheriff's Maj. Chuck Johnson, Lieut. Chris Edwards, Detective James Sizemore, Detective Bryon Lawson, Detective Robert Reed, Sgt. Brett Reeves, Deputy Dylan Messer, Deputy Jamie Etherton, Bailiff Jacklyn Johnson, and Bailiff Judy Morgan.
Photo of contraband seized attached to this report.
Laurel County Sheriff John Root (left) stated that drug investigations and arrests will continue in Laurel County