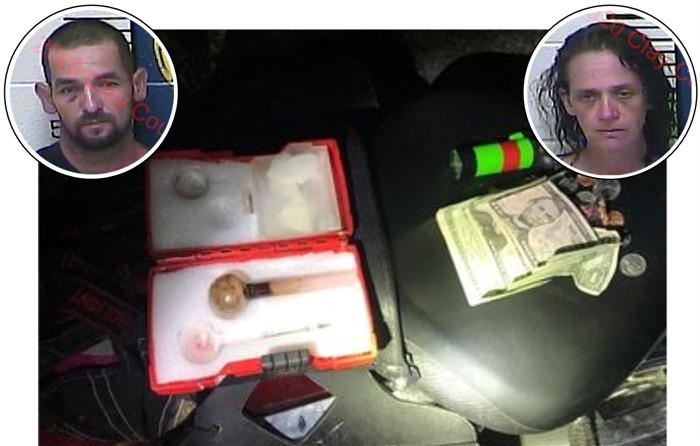 MANCHESTER, KY (September 16, 2020) - Clay County Sheriff Patrick Robinson is reporting that on September 16, 2020 at approximately 12:20 A.M. Clay County Sheriff Deputy Wes Brumley along with Deputy Kendric Smith arrested Timothy Hayes, 38 and Tabitha Smallwood, 42 both of Add Hollow Road.
The arrests occurred on Bob Hacker Road when Deputy Brumley conducted a traffic stop for vehicle infractions.
Upon making contact with the driver, it was noted that the driver's information came back as Suspended.
Through further investigation it was determined the subject was operating the motor vehicle under the influence.
During the search Deputies located a backpack that both driver and passenger claimed, inside the backpack was a box that contained suspected Methamphetamine.
Timothy Hayes was charged with:
• Driving on DUI Suspended License- 2nd Offense
• No Registration Plate
• No Registration Receipt
• Failure to Produce Insurance Card
• Failure of Non-Owner Operator to Maintain Required Insurance
• No Operator-Moped License
• Operating Motor Vehicle Under the Influence of ALC/DRUGS/ETC.
• Trafficking in a Controlled Substance 1st Degree (Methamphetamine)
Tabitha Smallwood was charged with:
• Trafficking in a Controlled Substance 1st Degree (Methamphetamine)
The photos attached are courtesy of the Clay County Detention Center and Deputy Brumley.
Assisting at the scene was Kentucky State Trooper Tyson Lawson.