MANCHESTER, KY (October 23, 2020) - Clay County Clerk Beverly Craft is reporting that: "In person" Early Voting which begin on Tuesday, October 13, 2020 is proving to be very popular with the voters in Clay County.
According to Clerk Craft as of this morning more than 1100 Clay countians had voted in person at the Clay County Administration Building in Manchester with a current daily average of 125 which she expects to rise as the November 2nd deadline nears.
Mrs. Craft said "It's a guick & easy way to vote, COVID guideline are in place and waiting time is at a minium due to the short voter line, also election officers are present for voter sign in & to answer any questions. Voters enter through the door next to the Sheriff's office entrance in front of Pat's Snack Bar & after casting their ballot, exit through the front door. Hours are 8:00 to 4:30 weekdays and 8:00 to12:00 Noon on saturday."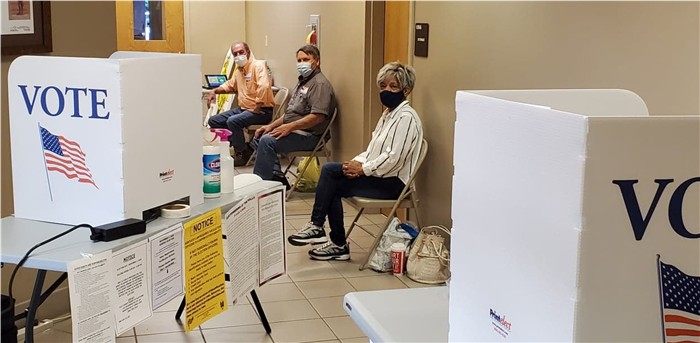 Election officers at the Clay County Administration Building in Manchester, Kentucky ready to welcome Friday morning's first "In Person" Early Voter
The County Clerk's duties include:
The recording and administration of official documents of many kinds
The preparation and printing of property tax bills
The registration of voters and conduct of elections
The registration and titling of motor vehicles