MANCHESTER, KY (October 25, 2020) - The City of Manchester Fire Department is reporting that: All of us would like to say thank you to Patrick Conn who contacted our Department in reference to the missing person David Campbell.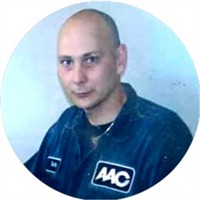 Mr. Conn brought 3 K-9s trained in Search & Rescue and HRD.
Jed, Roxy, & Tuff and their handlers came from different parts of Kentucky, one place being Morehead to assist in looking for Mr. Campbell. (pictured right)
All 3 K-9's did intensive searching and proved to be very valuable to the search effort.
We will continue to utilize this group more in the coming future.
Thank you again for all your help today.
A special thank you to Deputy Blackwell (Pictured) for his assistance today!
If anyone has seen or knows where Mr. Campbell is located please Contact Clay County 911 at (606) 598-8411 or the Clay County Sheriffs Office at (606) 598-3471.