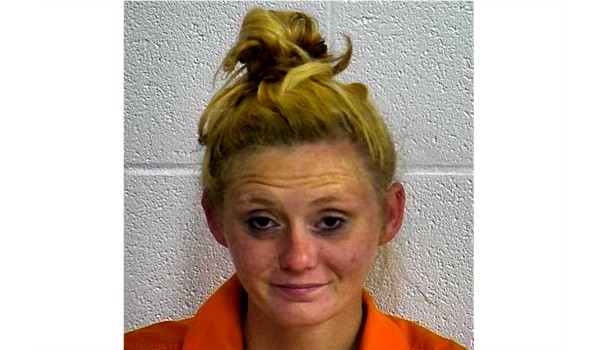 LONDON, KY - Laurel County Sheriff John Root is reporting that: Laurel Sheriff's K-9/shift Sgt. Gary Mehler along with Deputy Dustin Saylor and Bailiff Jacklyn Johnson arrested Kathleen J. Phillips age 25 of Darst Street Stanford, KY on Wednesday afternoon November 18, 2020 at approximately 3:26 PM.
The arrest occurred off East Laurel Road near Conley Road approximately 2 miles east of London after Sgt. Mehler was dispatched to a suspicious person complaint there.
It was reported that a female subject was acting strange running and hiding behind trees when cars would go by.
When Sgt. Mehler arrived at the scene, he located the suspect and conducted an investigation determining that she was under the influence.
In addition, it was learned that she had two outstanding warrants of arrest from Lincoln County.
Also, this subject was found in possession of:
Suspected Methamphetamine
A loaded hypodermic needle
A straw with residue
Marijuana
Kathleen J. Phillips was charged with:
Possession of a controlled substance – first-degree – first offense – Methamphetamine
Possession of Drug paraphernalia
Public intoxication – controlled substances
Possession of Marijuana
A Lincoln Circuit Court bench warrant of arrest charging failure to appear in court on child support charges
A second Lincoln District Court bench warrant of arrest charging failure to appear in court
This individual was lodged in the Laurel County Correctional Center.
Photo of accused attached is courtesy of the Laurel County Correctional Center.