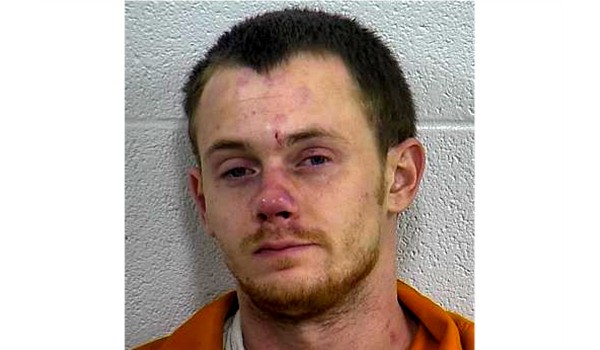 LONDON, KY - Laurel County Sheriff John Root is reporting that: Laurel Sheriff's Deputy Daniel Reed along with K-9/shift Sgt. Gary Mehler, Deputy Travis Napier, and Deputy Dustin Saylor arrested Dylan S. Grubb age 28 of London on Thursday night December 3, 2020 at approximately 7:03 PM.
The arrest occurred off Bowling Old Way Road, approximately 5 miles east of London after deputies were dispatched to an assault that had allegedly occurred there.
Responding deputies were advised that a male subject had allegedly assaulted a female subject and was armed with a knife.
Deputies were further advised that the suspect had stated that the police had better not be called or it would get bad.
Upon arrival at the scene deputies conducted an investigation and learned that a female victim had allegedly been strangled to the point of passing out and had been threatened afterwards.
Deputies noted large red marks on the victim's neck and had Laurel County EMS check on the victim.
The suspect was arrested without incident.
Dylan Grubb was charged with:
Strangulation – first-degree
Terroristic threatening – third-degree
Menacing
This individual was lodged in the Laurel County Correctional Center.
Photo of accused attached is courtesy of the Laurel County Correctional Center.