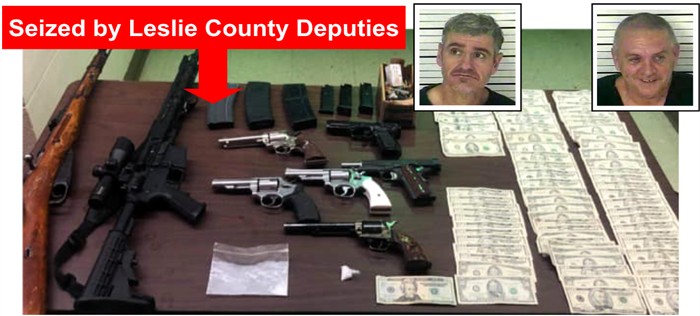 HYDEN, KY - Leslie County Sheriff's Office is reporting that: On Friday, December 18, 2020 Deputy Shane Wilson and Special Deputy Bobby Roberts were on routine patrol in the Bear Branch area of the county when they noticed that a vehicle had lost its gas cap.
Deputies made the driver Charlie Deppenmeier, of Hyden aware he had lost his gas cap and then made notice that the vehicle did not have a visible license plate. Anthony Couch was a passenger in the vehicle.
Upon further check Deppenmeier was found to have no valid driver license or insurance.
Deputies asked Deppenmeier if the vehicle contained anything illegal and he verbalized it didn't and volunteered a consent to search.
Inside the center console Deputy Wilson and Deputy Roberts located two bags of a crystal white substance believed to be Crystal Methamphetamine weighing 6gm.
In the vehicle was also found seven loaded guns and $3920.
With K-9 Deputy Travis Davis in assistance, both subjects were arrested and lodged in the Leslie County Detention Center.
Charlie Deppenmeier, 47 was charged with:
Serving Bench Warrant for Court
No registration plate
No registration receipt
Improper display of registration plate
Failure to maintain insurance
Operating on suspended license
Trafficking in controlled substance, 1st Degree, Methamphetamine
Anthony Couch, 56 was charged with:
Trafficking in Controlled Substance, 1st Degree, Methamphetamine
Photos of the accused are courtesy of the Leslie County Detention Center.