LONDON, KY (December 28, 2020) - Laurel County Sheriff John Root is reporting that: Laurel Sheriff's Deputy Brent France along with Deputy Hunter Disney arrested Brian K. Napier age 49 of Curry Road, London on Sunday night December 27, 2020 at approximately 10:17 PM.
The arrest occurred after Laurel deputies were dispatched to a robbery in progress at East 80 Grocery at approximately 9:39 PM.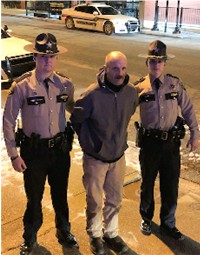 Deputies learned while enroute to the scene that a suspect armed with a knife wearing a gray shirt and tan pants fled the scene on foot with an undisclosed amount of money fleeing toward Clay County.
Laurel deputies notified Clay County law enforcement. A short time later the male suspect was located by Laurel County deputies hiding in a vehicle in the Horse Creek section of Clay County.
Following a brief struggle with Laurel deputies, the suspect was taken into custody.
Brian K. Napier was charged with:
Robbery – Second-degree
Resisting arrest
Criminal mischief – First-degree
Possession of Burglary tools
Menacing
Disorderly conduct – Second-degree
This individual was lodged in the Laurel County Correctional Center.
Photo of the accused courtesy of the Laurel County Correctional Center.
Brian K. Napier (left) as he was being escorted into the Laurel County Sheriff's office by Sheriff's Deputy Brent France and Deputy Hunter Disney to be processed.
Assisting Laurel County deputies as they arrested the suspect was:
Clay County Sheriff's Office
Kentucky State Police
Manchester City Police