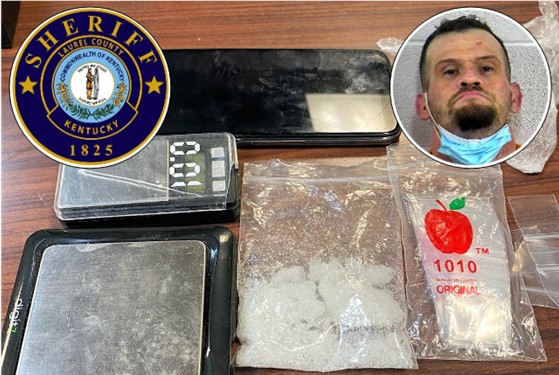 LONDON, KY (January 18, 2021) - Laurel County Sheriff John Root is reporting that: Laurel Sheriff's Deputy Landry Collett along with Deputy Hobie Daugherty and Deputy James Fox arrested Joshua Ray Walters age 32 of Echo Valley Road, Lily early Monday morning January 18, 2021 at approximately 3:36 AM.
The arrest occurred off Highway 770 in a business parking lot approximately 10 miles South of London after Deputy Collett conducted a traffic stop on a black colored Lincoln with an expired registration plate.
During the traffic stop the driver was found in possession of suspected Methamphetamine, operating on a suspended or revoked operator's license and had license plates not assigned to his vehicle.
Upon arrest, the suspect was placed in custody, however, as deputies continued their investigation on the suspect's vehicle, the suspect fled on foot for approximately 150 yards running behind a building but deputies gave chase and were able to take the suspect back into custody.
Deputies then found a large amount of suspected Methamphetamine, small baggies, and scales in the suspect vehicle.
Joshua Ray Walters was charged with:
Trafficking in a controlled substance – first-degree – second offense – Methamphetamine
Possession of drug paraphernalia
Disorderly conduct – second-degree;
Fleeing or evading police – second-degree – on foot;
Escape second-degree
Resisting arrest
No registration plates
Operating on suspended or revoked operator's license;
Failure to surrender revoked operator's license
Possessing a license when privileges are revoked
Improper display of registration plates
This individual was lodged in the Laurel County Correctional Center.

Photo of accused attached is courtesy of the Laurel County Correctional Center.
Photo of contraband seized provided by arresting deputies.
Laurel County Sheriff John Root (left) stated that drug arrests will continue in Laurel County.