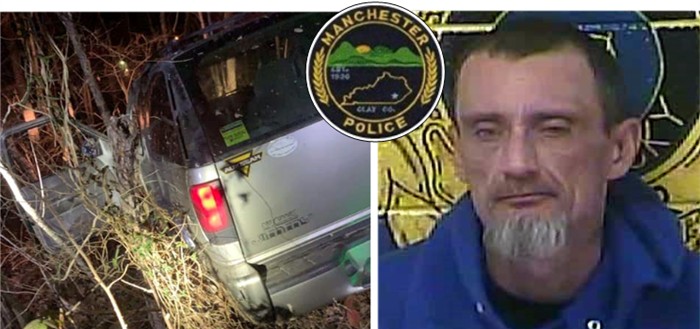 MANCHESTER, KY - The Manchester Police Department is reporting that: On January 18, 2021 at around 11:43 PM while on patrol MPD Sgt. Jeff Couch observed an older model GMC Jimmy around the area of Swafford Street engaging in some suspicious activity.
Sgt. Couch ran the registration tags on the vehicle and discovered they were expired.
When Sgt. Couch attempted to perform a traffic stop on the vehicle the driver failed to stop and traveled on Town Branch Road at a high rate of speed and continued on Highway 687 most of the time on the wrong side of the roadway before making a left turn onto Ephram Creek Road and on towards Pawpaw Road. The vehicle made a turn onto another road off of Pawpaw and into a wooded area where the driver bailed on foot into the woods.
Other Officers from the Manchester Police Department and the Clay County Sheriffs Department assisted Sgt. Couch on the scene and the driver identified as Roy Boggs age 53 from Manchester, KY was quickly discovered by K9 Zeus hiding in the wooded area and taken into custody.
Roy Boggs was charged with:
Fleeing or evading police 1st degree motor vehicle
Careless driving
Failure of owner to maintain insurance 1st
Failure to register transfer of motor vehicle
Fleeing or evading police 2nd degree on foot
No registration plates
No operators license
Resisting arrest
Failure to appear on a Knox County child support warrant
This individual was lodged in the Clay County Detention Center.
Photo of the accused is courtesy of the Clay County Detention Center.
Assisting at the scene was: Chief Fultz, Deputy Arnold, Deputy Jared Smith, Trooper Jared Smith,Officer Garrison, Lt. Napier, and K9 Officer Jackson & Zeus.