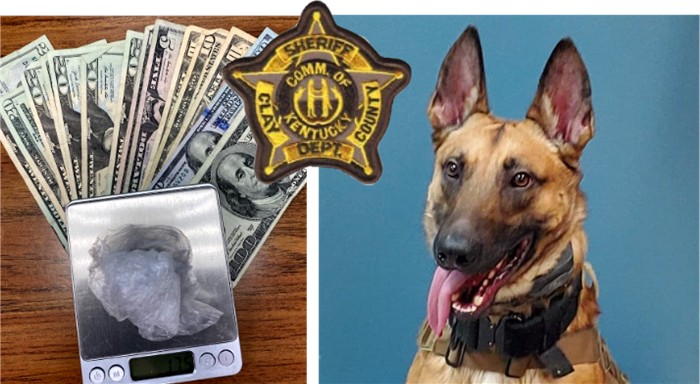 MANCHESTER, KY - Clay County Sheriff Patrick Robinson is reporting that on April 8, 2021 at approximately 11:30 PM Clay County Sheriff K9 Deputy Wes Brumley along with K9 Ghost arrested George Minton, 61 of Vine Drive.

The arrest occurred on Muddy Gap Road when Deputy Brumley conducted a traffic stop for vehicle infractions.
Contact was made with the driver who was noted to be acting extremely nervous.
K9 Ghost was utilized and performed an open air sniff, K9 Ghost indicated twice on the vehicle.
During the search Deputy Brumley located a large bag of suspected Methamphetamine along with U.S. Currency.
George Minton (left) was charged with:
• Trafficking in a Controlled Substance 1st Degree 1st Offense (<2 GMS Methamphetamine)
Assisting at the scene was Manchester City Police Officer Jeff Couch, Officer Wes Wolfe and Officer Ryan Jackson.
Photo of the accused is courtesy of the Clay County Detention Center.
Photo of Contraband by Deputy Brumley.
Photo of K9 Ghost by Ron Curry