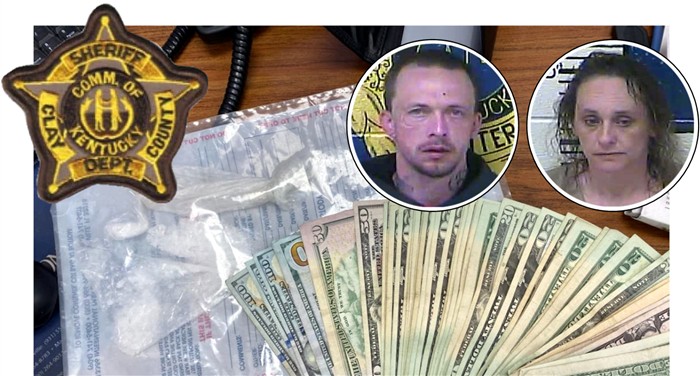 MANCHESTER, KY (April 16, 2021) - Clay County Sheriff Patrick Robinson is reporting that on April 16, 2021 at approximately 12:11 AM Clay County Sheriff K9 Deputy Wes Brumley along with Deputy Kendric Smith and Deputy Kelly Johnson arrested Brandon "Pencil" Davidson, 35 of Stone Gap and Jennie Crosslin, 45 of Sizemore Cemetery Road.
The arrest occurred off of Hogskin Road when Deputy Brumley attempted to conduct a traffic stop for vehicle infractions when the vehicle accelerated at a high rate of speed and attempted to evade Deputy Brumley and turned onto Hogskin Road at which time the vehicle wrecked out and became inoperable.
Both subjects then fled on foot, K9 Ghost tracked both subjects into the woods and located both subjects at which time the subjects became aggressive and physical toward Deputy Brumley.
After a brief struggle the subjects was placed under arrest without further incident.
Upon search, Deputy Brumley located a handgun inside the vehicle, U.S. Currency and a large amount of suspected Methamphetamine.
Brandon Davidson was charged with:
• Fleeing or Evading Police 1st Degree (Motor Vehicle)
• Fleeing or Evading Police 1st Degree (On Foot)
• Possession of Handgun by Convicted Felon
• Tampering with Physical Evidence
• Trafficking in Controlled Substance 1st Degree (> OR= 2 GMS Methamphetamine)
• Resisting Arrest
• Failure to or Improper Signal
• Careless Driving
Jennie Crosslin was charged with:
• Fleeing or Evading Police 1st Degree (On Foot)
• Public Intoxication of Controlled Substance (Excludes Alcohol)
• Resisting Arrest
Both individuals were lodged in the Clay County Detention Center.
The photos attached are courtesy of the Clay County Detention Center and Deputy Brumley.
Assisting at the scene was Manchester City Police K9 Officer Ryan Jackson, Manchester City Police Officer Jeff Couch and Officer Wes Wolfe.