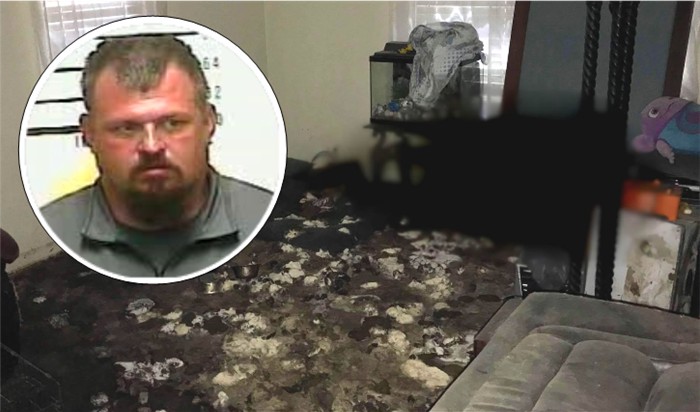 PINEVILLE, KY (May 16, 2021) - The Bell County Sheriff's Department is reporting that at approximately 1:22 PM on Sunday, May 16, 2021 Bell County K-9 Deputy Adam Southern responded to a Rae May Road residence in reference to a landlord issue with a tenant.
Upon arrival Deputy Southern spoke with the owner of the home where 34-year-old Joshua Shane Blevins, had been staying.
The landlord advised he was making entry into the home due to Blevins being evicted.
As the deputy made entry into the residence, he was met with an overwhelming odor of ammonia and feces.
A dog was barking in the living room area which was barricaded off by furniture.
The deputy found a German Shepherd hiding in a corner severely malnourished and dehydrated.
The dog was urinating on himself and then would lick it off the floor due to being so dehydrated.
Deputy Southern states the floor was covered with feces and urine without any place for the dog to walk without stepping in it.
The dog also had an extreme case of the Mange.
Bell County Animal Control was contacted and due to the nature of it's injuries caused by the extreme living conditions, the animal will have to be euthanized.
During the investigation, Blevins showed up at the home and was immediately taken into custody.
Joshua Blevins was lodged in the Bell County Detention Center and charged with:
Torture dog/cat with serious physical injury or death
Inset photo of the accused courtesy of the Bell County Detention Center.
Picture of the German Shepherd has been blurred due to sensitive content.