MANCHESTER, KY (July 20, 21) - Clay County Sheriff Patrick Robinson is reporting that on July 18, 2021 at approximately 9:57 PM Clay County K9 Deputy Wes Brumley along with K9 Ghost arrested James Jarvis, 52 of Sizemore Park Road.
The arrest occurred on North Highway 421 during a traffic stop, when K9 "Ghost" indicated on illegal narcotics in the vehicle.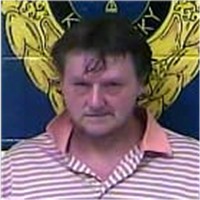 Deputy Brumley asked the above mentioned subject to step out of the vehicle at which time a small plastic baggie of suspected Methamphetamine fell to the ground.
James Jarvis was charged with:
Possession of a Controlled Substance 1st Degree 1st Offense (Methamphetamine)
This individual was lodged the Clay County Detention Center.
The photo attached is courtesy of the Clay County Detention Center.
Assisting at the scene was Clay County Sheriff Deputy Jared Smith and Kentucky State Police Trooper Jarrod Smith.