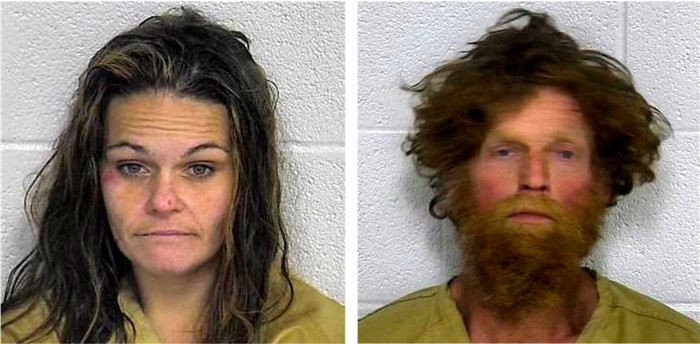 LONDON, KY (March 21, 2022) - Laurel County Sheriff John Root is reporting that: Laurel Sheriff's Lieut. Chris Edwards along with Detective Bryon Lawson, Deputy Jamie Etherton, Deputy Allen Turner, Deputy Brent France, and CSO Josh Bruner arrested two individuals on Sunday afternoon March 20, 2022 at approximately 2:22 PM.
The arrests occurred off Irvine Lane, approximately 5 miles north of London after deputies were dispatched to Lisowe Road near East Bernstadt to investigate a reported assault.
Upon arrival at the scene, deputies learned that allegedly a female and male subject had kidnapped a male victim.
The female suspect told Sheriff's investigators that the victim had stolen money from her and that she and the male suspect had located the individual and taken him to Irvine Lane and bound him with a belt not allowing him to leave and physically assaulted him.
The victim was transported to a local hospital with possible multiple fractures.
While deputies attempted to locate the two suspects off Irvine Lane where the alleged assault had occurred, Deputy Allen Turner observed a possible suspect vehicle turn from Farris Jones Road onto Irvine Lane, 5 miles north of London and observed the male suspect exit the vehicle running toward a residence on Irvine Lane.
Deputies located the suspect hiding under a mobile home there and gave verbal commands for the suspect to exit however he would not comply with deputies commands.
The suspect briefly struggled with deputies before being taken into custody.
Deputies learned that the male suspect was a parole violator. The male suspect told deputies he would not comply with commands because he knew he had an outstanding warrant.
The two arrested individuals were identified as:
Jessica Charlene Lawson age 30 of Winding Blade Rd., East Bernstadt charged with:
Assault – second-degree
Kidnapping – adult
Kendall Browning age 46 of Farris Jones Rd., East Bernstadt charged with:
Assault – second-degree
Kidnapping – adult
Resisting arrest
In addition, this subject was charged on a Kentucky Parole Board parole violation warrant charging:
Absconding parole supervision
Failure to complete treatment for substance abuse
Failure to make restitution as directed regarding a conviction in Laurel Circuit Court on charges of making false statement to prevent reduction of benefits over $100
Flagrant nonsupport
These two individuals were lodged in the Laurel County Correctional Center.
Photos of accused attached are courtesy of the Laurel County Correctional Center.