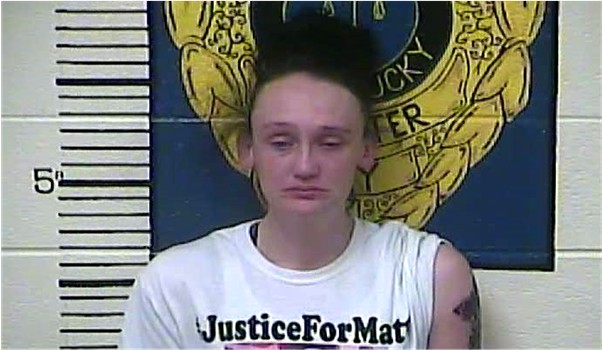 MANCHESTER, KY (April 11, 2022) - A Manchester woman was arrested during a complaint investigation by the Manchester Police Department on Wednesday, March 30, 2022.
According the the Enterprise, a local publication: Manchester City Police officer Jeremy Garrison responded to the complaint and found two children, a 3 year-old girl and a 6 year-old boy alone inside a Locust Street residence with a padlock on the front door and the backdoor nailed shut.
During the investigation, the mother, Viola Stanley returned home and was taken into custody at that time.
Viola J. Stanley age 33 of Manchester, KY was charged with:
WANTON ENDANGERMENT-1ST DEGREE
UNLAWFUL IMPRISONMENT - 1ST DEGREE
CRIMINAL ABUSE 2ND DEGREE-CHILD 12 OR UNDER
ENDANGERING THE WELFARE OF A MINOR
In addition this subject is also charged with:
TBUT OR DISP ALL OTHERS $1,000 < $10,000
This individual was lodged in the Clay County Detention Center.
Photo of the accused is courtesy of the Clay County Detention Center.
According to JailTracker records Viola Stanley was lodged in the detention center at 2:51 PM on Wednesday, March 30, 2022 where she remained housed as of !0:00 A.M on Monday, April 11, 2022 with no bond or court date having been set.
Read the complete Enterprise report HERE