Local store improvements complement retailer's vision for an innovative and convenient shopping experience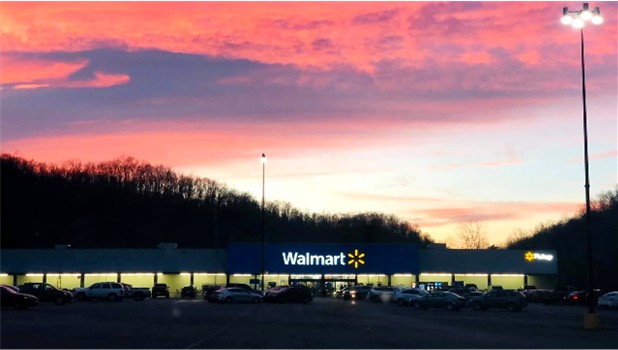 Walmart at 240 Manchester Square in Clay County, Kentucky - Photo credit: Tara Hasty
MANCHESTER, Ky. (April 14, 2022) – Manchester residents will soon get a first look at the newly remodeled Walmart at 240 Manchester Square, as the highly-anticipated project is now complete. The store will celebrate its Re-Grand Opening, April 15 at 10 A.M.
"The re-grand opening is a celebration for the entire community and we are so proud to have both our local chamber and student choir involved," said store manager Tara Hasty. "As our customers' shopping habits evolve, so must we. That is why we continue to update our stores to fit their evolving needs, ultimately allowing them the opportunity to shop when and how they want here in Manchester."
The festivities will include a ribbon cutting with the local Chamber of Commerce, a community celebration, Clay County Choir and mascot and other special surprises.
"I am so appreciative to the managers and staff at the Manchester Walmart. No matter what it is, they are always ready to help our community through their time and donations," said Randy Craft, Community Outreach Coordinator for AdventHealth and Vice President of Clay County/Manchester Chamber of Commerce. "Manchester Walmart is truly an asset for our little corner of the world here in Clay County."
The remodel includes several department transformations which will help customers save time.
Customers will enjoy the following store improvements:
New restrooms,
New cash registers for a quick and efficient checkout experience,
New directional signage,
New flooring throughout the store,
Expanded grocery selection,
Exterior updates on the supercenter,
New fitting rooms
Walmart will continue to innovate to help customers save time and money by giving them the option to shop when, where, and how they want, including:
Pickup - Busy customers love Walmart's pickup option. It gives them the convenience of shopping online and the ease of picking up groceries quickly without leaving their cars. The best part: there is no fee to use Walmart Grocery Pickup. Customers using SNAP also have the option to use pickup services in most states.
Pharmacy Curbside Pickup - Customers may pick up their prescriptions safely and efficiently without needing to unbuckle their seatbelts. At no additional cost, curbside pickup is another way to help customers save money and live better.
Delivery - Walmart's convenient delivery service is also a hit with customers. Even more, Walmart has now made pickup and delivery contact-free.
Express delivery – Customers now have the option to have their deliveries made in under two hours.
Walmart Pay – A touch-free way to pay
Walmart+
This membership program is designed to save customers time and money with free, unlimited deliveries, member prices for gas, use of the Scan and Go app, allowing the scanning and payment of products while shopping for quicker checkout and exclusive access to select deals before the general public. Walmart+ costs $98/year ($12.95/month) and includes a 15-day free trial period (Available for sign-up at walmart.com). Items available for free delivery include groceries, electronics, toys, and household goods. To take advantage of Walmart's new shopping features, customers can download the Walmart app through Apple Store or Google Play.
###
About Walmart in Kentucky
Walmart Inc. (NYSE: WMT) helps people around the world save money and live better – anytime and anywhere –in retail stores, online and through their mobile devices. Across the Commonwealth we serve customers at 102 retail units and online through Walmart Online Grocery and Walmart.com. We are proud to employ over 30,000 associates in Kentucky. Walmart supports local businesses, spending $594.6 million with Kentucky suppliers in fiscal year 2021 and supporting 43,908 supplier jobs. Walmart continues to be a leader in employment opportunity, sustainability, and corporate philanthropy. In fiscal year 2021, Walmart and the Walmart Foundation contributed more than $18.7 million in cash and in-kind donations to local nonprofits in Kentucky. Learn more at corporate.walmart.com.