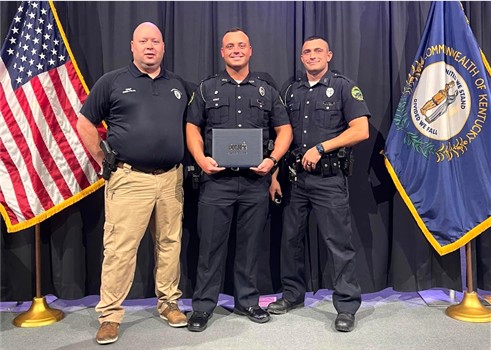 Manchester Police Chief, Chris Fultz with MPD Officers Derick Carr and Shawn Curry
MANCHESTER, KY - Manchester Police Chief, Chris Fultz has announced that Manchester Police Officer Derick Carr has Graduated from (DOCJT) The Department of Criminal Justice Basic Training class 525.
The graduation was held at Richmond, Kentucky, home of the DOCJT Academy. The DOCJT provides entry-level and advanced individual training for approximately 9000 law enforcement personnel annually. The 20 week, 800 hour law enforcement basic training course is mandatory for all Kentucky law enforcement officers who are required to comply with police officers professional standards act of 1998.
Officer Carr received over 800 hours of training. During that time Officer Carr received several awards and honors.
Officer Carr received the Firearms Profiency Award, along with the Fit for Duty Award.
Officer Carr was also selected as Squad Leader and Special Projects Leader.
Chief Fultz would like to thank Officer Carr and his family for their sacrifice for the last twenty weeks of training. "Our community is getting one the best officers in the state."
"We are Proud of his achievements at the DOCJT Training."