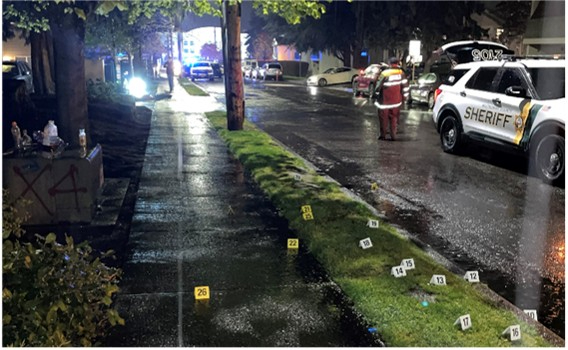 FAIRVIEW, OR (April 30, 2022) - The Multnomah Co. Sheriff's Office is reporting that Multnomah County sheriff's deputies responded to reports of a shooting in Fairview on Friday, April 29, around 9:30 P.M.
As deputies responded to the location, the 2600 block of NE 205th Avenue, they came across a fleeing suspect.
Deputies found the man, 21-year-old Jesus Rafael Guerrero, in possession of a firearm and took him into custody.
Guerrero was booked into the Multnomah County Detention Center for:
Unlawful Use of a Weapo
Unlawful Possession of a Firearm
Carrying a Concealed Weapon
During the investigation, deputies found several cars and occupied homes struck by gunfire.
Deputies checked the homes to ensure no one was hurt by the gunfire. No one reported injuries.
Deputies believe there were multiple shooters and are asking anyone with video or information about this shooting to contact Detective Chris Stephens at This email address is being protected from spambots. You need JavaScript enabled to view it., or submit a tip online at Crime Stoppers of Oregon. You can remain anonymous using either of these methods.
Image description: Evidence markers on street with patrol vehicle in background
###