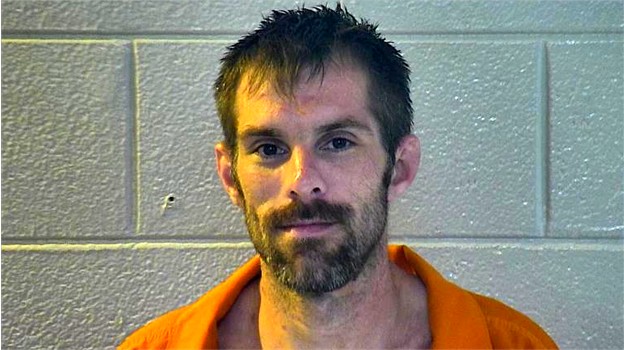 SOMERSET, KY - Pulaski County Sheriff Greg Speck has reported the arrest of Jonathan Scott Whitaker, age 32, of KY Highway 1003, Somerset, Kentucky, for multiple charges following an attempt to serve warrants on Whitaker by Sheriff's Office Deputies.
On April 30, 2022, at approximately 11:30 AM, Sergeant Zach Mayfield was answering an unrelated complaint on KY 1003 that had come into Pulaski County 911 Dispatch.
While on that complaint, Sergeant Mayfield observed Jonathan Whitaker running away.
Later that day, at approximately 3:15 PM, Sergeant Zach Mayfield, Deputies Trent Massey, Kyle Edwards, and Jay Picard attempted to serve warrants on Jonathan Whitaker at an address on KY 1003 in eastern Pulaski County.
Deputy Trent Massey located Jonathan Whitaker cowering underneath a mobile home on KY 1003. When Deputy Massey saw Whitaker, he ordered him to show his hands and crawl out from underneath the residence.
Whitaker refused numerous commands to come out, so Deputy Massey started under the trailer after him, but Whitaker crawled further away from him. Deputy Massey deployed his taser at Whitaker and crawled underneath the trailer after him.
The Deputies later discovered a hole hidden in the floor of the trailer, which allowed Whitaker to crawl through and get under the trailer to hide.
Whitaker was placed under arrest and brought out from under the trailer by Deputy Massey.
Deputy Massey initially charged Whitaker with the following:
• Fleeing or Evading Police, 2nd Degree (On Foot)
• Resisting Arrest
On March 8, 2022, at 1:53 AM, Deputy Tan Hudson and Sergeant Branson Patterson saw a red Nissan truck come off KY 1003 and onto KY 192 at a high rate of speed. The driver of the truck almost lost control and got over into the ditch of the eastbound lane.
Deputy Hudson turned on his emergency equipment to attempt to stop the truck. The driver did not stop and fled at a high rate of speed. The driver then drove off the main road and took off into a field in the truck until entering a woodline where he rammed the truck into a tree. He then ran on foot.
During the foot pursuit and in the darkness, Deputy Tan Hudson received a severe injury to his hand and could not continue in the pursuit.
The driver got away from Sergeant Patterson and Deputy Hudson.
A bag of suspected Methamphetamine weighing approximately one (1) gram was found in the truck.
Deputy Hudson was able to identify the driver of the truck as Jonathan Scott Whitaker.
The truck was impounded due to improper registration and insurance.
Deputy Hudson applied for and received an arrest warrant for Whitaker for the following charges:
• Fleeing or Evading Police, 2nd Degree (Motor Vehicle)
• Fleeing or Evading Police, 1st Degree (On Foot)
• Possession of a Controlled Substance, 1st Degree, 1st Offense (Methamphetamine)
• Reckless Driving
• Improper Display of Registration Plates
• Failure of Owner to Maintain Required Insurance
• No Registration Plates
This arrest warrant was served by Deputy Trent Massey on April 30th when Deputies found him cowering underneath the trailer.
Deputy Massey served another warrant on Whitaker for a Parole Violation Warrant.
In this warrant, Jonathan Whitaker was convicted of:
Burglary, 3rd Degree in Pulaski County Circuit Court, paroled on March 25, 2020, and had violated that parole.
Jonathan Whitaker was transported to the Pulaski County Detention Center, where he remains lodged as of this press release.
Photo of the accused is courtesy of the Pulaski County Detention Center.
This investigation continues by Deputy Trent Massey and Deputy Tan Hudson. Also, Sergeant Zach Mayfield has an investigation into those who helped conceal Whitaker and obstructed the Deputies from serving the warrants.
Deputy Hudson's injury resulted in him missing eight days of work.
Sheriff Greg Speck asked that if you have any information about drug activity or any crime, contact our office at 606-678-5145. You can remain anonymous.
If you go to the Pulaski County Sheriff's Office website at http://www.pulaskisheriff.com/tip.php, it gives you three options to submit anonymous tips.
Contact: Major Jeff Hancock
606-678-5145