PAINTSVILLE, KY (May 4, 2022) — U.S. Rep. Hal Rogers (KY-05) joined first responders and local leaders today at the U.S. 23 Country Music Highway Museum in Johnson County to announce $860,000 in federal funding has been passed into law to upgrade the local emergency communications system.
"Our first responders are our local heroes and we need to make sure they have the best possible equipment when they are responding to life-threatening situations, especially when every second counts," said Congressman Rogers. "This new digital system will help eliminate delays and barriers in communications, ensuring Johnson County emergency crews have the critical information they need when arriving on the scene of an accident or natural disaster. I applaud our Johnson County first responders for their brave service through the COVID pandemic and their continued commitment to serving the people of our region."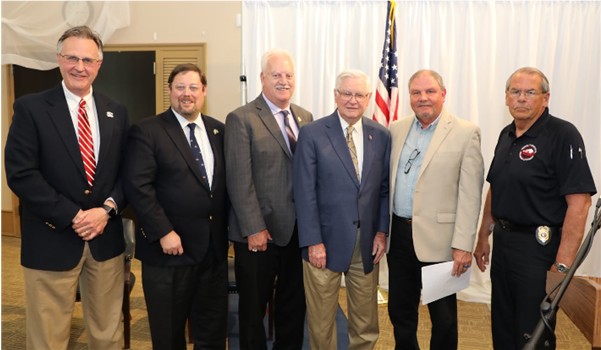 Johnson Co. Judge Executive Mark McKenzie, State Sen. Phillip Wheeler, State Rep. Bobby McCool, Congressman Rogers,
Paintsville Mayor Bill Mike Runyon, & Johnson Co. Emergency Management Director Gary McClure
The funding was one of ten community project funding earmarks that Congressman Rogers requested in the comprehensive federal funding bill for fiscal year 2022. The legislation was signed into law in March.
"On behalf of the Johnson County Fiscal Court, our first responders and citizens, I would like to thank Congressman Rogers for the earmark. The Johnson County First Responder Communications Project will allow our fire departments and law enforcement agencies to upgrade to a digital communications system increasing first responder and public safety," said Mark McKenzie, Johnson County Judge Executive. "This very vital project would have taken our community nearly a decade to complete without this one-time investment of funding and federal support."