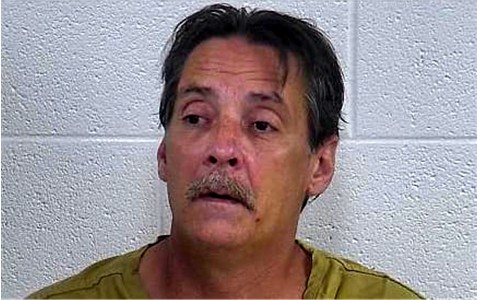 LONDON, KY (May 4, 2022) - Laurel County Sheriff John Root is reporting that: Laurel Sheriff's Deputy Dustin Saylor arrested Phillip Todd Johnston age 51 of Timberland Circle, Corbin on Monday afternoon May 2, 2022 at approximately 4:00 PM.
The arrest occurred off Timberland Circle, approximately 7 miles South of London while deputies were investigating a complaint there.
While enroute to the scene Deputy Saylor was advised that this subject had called the 911 Dispatch Center using profanity toward dispatchers.
Upon arrival at the scene this subject began yelling and creating a disturbance using profanity in view of the public there.
Upon arrest this individual continued to yell and use profanity and threatened Deputy Saylor numerous times enroute to the detention facility.
In addition, this subject kicked the back window of the police cruiser numerous times and upon arrival at the detention facility this subject began headbutting the back window of the police cruiser.
Phillip Todd Johnston was charged with:
Alcohol intoxication in a public place
Disorderly conduct – second-degree
Menacing
Criminal mischief – third-degree
This individual was lodged in the Laurel County Correctional Center.
Photo of accused attached is courtesy of the Laurel County Correctional Center.