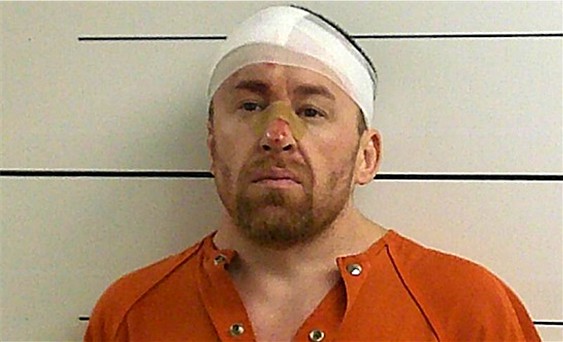 FLATWOODS, KY – The Kentucky State Police is reporting that on May 2, 2022 at approximately 2:45 A.M., Kentucky State Police in Ashland was notified of an officer involved shooting that occurred on E Street in Flatwoods, KY.
After Troopers arrived on scene, they learned the Flatwoods Police Department had received a call of a suspicious person in the area of Bay Berry Townhomes. When Officer Tommy Robinson arrived on scene he encountered the suspect, Jonathan Smithers (DOB 12-21-1980).
Shortly after making contact with Mr. Smithers, Officer Robinson was shot in the neck. Mr. Smithers then fled the scene on foot.
Officer James Sparks arrived shortly after the shooting and immediately began administrating first aid. Officer Robinson was transported to Cabell Huntington Hospital and an intense manhunt ensued.
During this time, it was learned that there was a female at the Flatwoods SuperQuick that had been involved in an ongoing assault by Mr. Smithers. She was able to elude Mr. Smithers and hid at the Flatwoods SuperQuick.
As the search continued into the morning hours, Trooper Hartsell observed a subject walking in the area of Argillite Road that matched the description of Mr. Smithers.
When Trooper Hartsell made contact with Mr. Smithers, he attempted to elude him by running across Argillite Road and through the Dollar General parking lot.
Trooper Hartsell gave pursuit of the suspect and deployed his agency issued Taser which was successful. Mr. Smithers was then arrested without further incident.
During the Taser deployment, Mr. Smithers fell and sustained a laceration to his forehead, which was treated immediately by Greenup EMS.
Mr. Smithers received further treatment at Kings Daughters Medical Center and then released at which point he was arrested.
Jonathan Smithers was charged with the following:
Fleeing or Evading Police, 1st Degree (On foot)
Resisting Arrest, Poss Cont Sub 1st Degree, 1st Off (Methamphetamine)
Poss of Marijuana
Promoting a Minor (U/16) In a Sex Performance and other charges
Smithers was lodged in the Boyd County Detention Center where according to jail records, he is being held on a CASH BOND of $250,000.00
Photo of the accused is courtesy of the Boyd County Detention Center.
Sgt. Cramer is handling the attempted murder of Officer Robinson.
Additional charges are pending upon the completion of a through investigation.
The Kentucky State Police was assisted by:
Flatwoods Police Department
Russell Police Department
Raceland Police Department
Worthington Police Department
Lewis County Sheriffs Department
Lawrence County Sheriffs Department
Ashland Police Department
Boyd County Sheriffs Department
Boyd County Emergency Management
Greenup County Emergency Management
Greenup County EMS
FBI
Kentucky State Police Aircraft Branch
Ohio Highway Patrol
Flatwoods Fire Department among other agencies.
The Kentucky State Police would like to thank the community for the outpouring of tips and leads in the help of apprehending of Mr. Smithers.
# # #