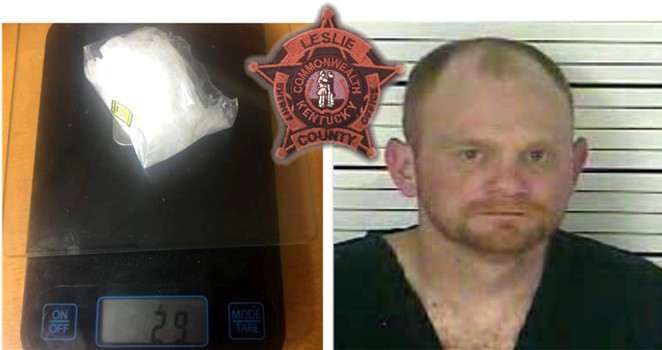 HYDEN, KY - On Thursday, April 21, 2022 at approximately 7:30 P.M. Leslie County Deputy Sheriff Shane Wilson stopped Terry Hendrix 32, of Wooton, KY in a 2004 Chevy Trailblazer on the Hal Rogers Parkway for improper registration plates.
Upon contact with Hendrix it was determined he had no insurance, no proper registration plates and an active arrest warrant out of Laurel County. It was also determined after field sobriety tests, Hendrix was under the influence of intoxicants.
During the search of the vehicle a locked safe was found, a set of digital scales with what is believed to be Crystal Methamphetamine residue on it and a large amount of U.S. currency in assorted denominations.
After a further investigation Deputy Wilson was able to obtain and execute a search warrant on the contents in the safe.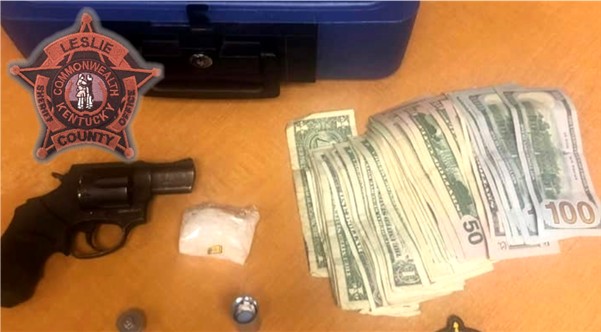 Once the safe was opened, 29 grams of suspected Crystal Methamphetamine was found along with an assortment of pills, and a loaded handgun.
Terry Hendrix was charged with:
•No registration plates
•No registration receipt
•Failure to produce insurance card
•Failure of owner to maintain required insurance
•Failure to register transfer of motor vehicle
•Operating motor vehicle under influence 2nd
•Drug paraphernalia
•Laurel County bench warrant
•Trafficking controlled substance 1st degree (Methamphetamines)
•Trafficking controlled substance 1st degree (drug unspecified)
•Possession of a handgun by a convicted felon
Hendrix was lodged in the Leslie County Detention Center where, according to jail records as of 9:00 A.M. on Saturday, May 7, 2022 he is currently housed with no bond or court date having been set.
Photo of the accused is courtesy of the Leslie County Detention Center.
Photo of seized contraband is from Leslie County Sheriff's Office.
Kentucky State Police Trooper Darrell Hicks assisted Deputy Wilson with the stop and investigation.
**Anyone struggling with addiction is encouraged to reach out to the Leslie County Sheriff's Office for any assistance they may need getting into a rehab facility**