Column by U.S. Senate Republican Leader Mitch McConnell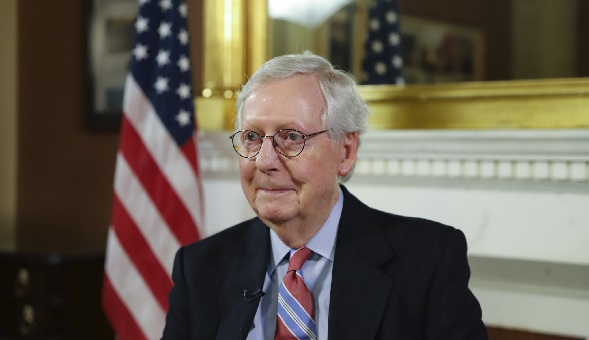 Mitch McConnell, a Kentucky Republican, is the Senate Republican Leader
The CDC just released its preliminary estimate for overdose deaths in Kentucky last year, and the news is grim. After surging nearly 50% in 2020, overdose deaths in the Commonwealth increased by more than 13% in 2021, reaching a record of nearly 2,400.
To put those numbers into perspective, the CDC now estimates we lost six Kentuckians to drugs every day last year, or about one every four hours. Kentucky's substance abuse problem was a crisis before the pandemic. Now, it's a catastrophe.
The Commonwealth has been on the front lines of this epidemic for years, often recording some of the highest overdose deaths per capita in the country. Because of this, I've leveraged my leadership position in the Senate to direct more than $350 million to Kentucky to address the crisis head-on.
I've helped craft some of our country's largest and most effective federal overdose prevention programs. Up until 2020, these initiatives were effectively stemming the tide of addiction and had helped reduce overdose deaths in the Commonwealth for several years in a row.
Then, the pandemic hit. Individuals in recovery were forced into social isolation, away from the treatment programs they relied upon to stay clean. At the same time, fentanyl flooded across the southern border. That deadly drug now plays a leading role in more than 70% of overdose deaths in Kentucky.
Law enforcement leaders across the Commonwealth tell me that, to curb overdose deaths, our number one priority should be to stop fentanyl from illegally entering our country through Mexico. But President Biden would rather appease his party's radical base with functionally open borders than conduct the bare minimum in enforcement.
As a result, in President Biden's first year in office, the amount of fentanyl found at the border roughly doubled. Every month, Customs and Border Patrol officers now seize enough of the drug to kill about half of all Americans. Imagine how much deadly fentanyl slips through their grasp and onto our streets.
Republicans understand that, when illegal immigrants cross our border, they often bring illegal drugs. But, even with border crossings at a two-decade high, President Biden has ignored this reality, preferring to open the country's doors to the cartels rather than offend far-left immigration activists. His misplaced compassion for criminals is killing Kentuckians.
With the drug epidemic entering a new, daunting phase, I cosponsored a resolution calling for the President to work with Congress to fight crime and redoubled federal efforts to combat substance abuse in the government funding bill passed by the Senate and signed into law earlier this year. Even if President Biden refuses to secure our border, I'll make sure Kentuckians get the federal help they need.
I extended the ban on fentanyl-like substances through the end of 2022, empowering law enforcement officials to go after this poisonous drug. I secured more than $1.5 billion for the State Opioid Response Grant program, which targets resources to states like Kentucky that have been hit especially hard by opioid addiction and delivered nearly $36 million to the Commonwealth this year.
I directed almost $1 billion to programs that help Kentucky law enforcement crack down on drug crimes, including $300 million to the High Intensity Drug Trafficking Area (HIDTA) program. I've fought to include more counties in this initiative, which now encompasses 37 hard-hit Kentucky counties, to provide special resources to the law enforcement officers who need them most.
I helped provide millions more dollars to programs that help individuals in recovery receive transitional housing and job training.
I'm also working closely with state and federal leaders like ONDCP Director Rahul Gupta, whom I brought to Bowling Green and Louisville in February, to better coordinate our efforts to combat addiction. I've hosted four drug czars from administrations of both political parties in Kentucky to try to hammer home the magnitude of this problem to our leaders in Washington.
The situation in the Commonwealth is dire, but we cannot give up hope. An alliance of federal, state, and local stakeholders helped mitigate our substance abuse crisis before the pandemic. With additional federal funding, enhanced coordination between all levels of government, and – most crucially – a secure southern border, I believe we can do it again.
###