Memorial Day 2022: Family visits loved one's graves for what may be last time at the 125-year-old historic Hoskins Cemetery on Island Creek Hill off U.S. 421 in Clay County, KY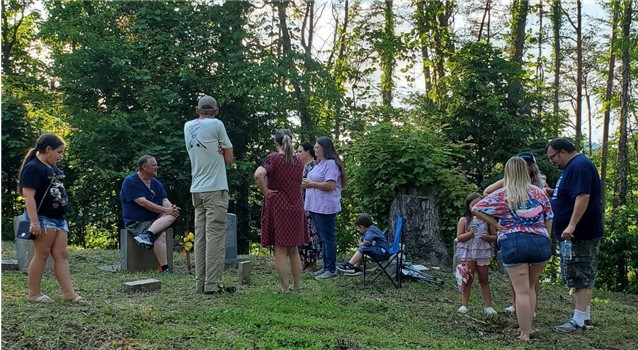 The Clay County Board of Education wants to unearth these graves to put in a sport complex/ parking lot
By Stella B. House
MANCHESTER, KY (May 31, 2022) - A special thanks to Justin Walker with ABC news and Ron Curry with ClayCoNews for attending a Memorial Service at the historic Hoskins Cemetery (the "Cemetery ") yesterday and bringing awareness to the Cemetery's dire situation - a 125-year-old cemetery is in DANGER!
The Clay County Board of Education (the "Board") wants to unearth graves to put a sport complex/ parking lot there instead.
Stella House speaking with ABC News reporter, Justin Walker. Justin's full ABC 36 WTVQ report is available at this link Family, friends pleading for school board to stop cemetery excavation in Clay County - ABC 36 News (wtvq.com)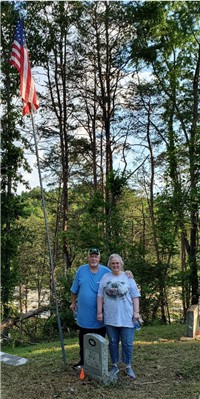 There's something really odd about this whole situation!
The Board claims to own the Cemetery via a purchase of real property from Estill Hoskins but has not tried to prove that the Cemetery has been abandoned, which is the usual standard for relocation of a cemetery by a landowner in Kentucky. Instead, the Board simply requested and received a determination by the Clay County Fiscal Court that the relocation of the Cemetery is "in the best interest" of Clay County. I believe this type of request and approval normally takes place after an eminent domain proceeding when the County or State wants to build a highway or road. I think this was a very unusual and highly suspect way for the Board to handle this matter. Who buys a cemetery not with the intention to care for and preserve the cemetery but with the intent to disinter the graves and relocate the cemetery? There is something inherently wrong with that.
Paraphrasing Blaine Price, among those interred there are Native Americans, Veterans of the Civil War, World Wars I & II, a Memorial to a soldier killed in action in the Korean War, as well as many ancestors of some of Southeastern Kentucky's earliest settlers. One would think that a final resting place set aside over 125 years ago would be sacred ground. The decedents and their family members believed their graves would be undisturbed and would have the respect of subsequent generations. Unfortunately, that is not the case here.
Thank you also to David Gillaspie and his wife, Holly Lovings, for providing chairs, a flag, a sound system, and cold bottles of water. David spoke on the significance of Memorial Day too. Preacher Harrison Hoskins provided a powerful message also. Thanks to all of these people and everyone who attended this very emotional Memorial Service, especially the many family members of decedents buried there in the Cemetery.
As English Prime Minister Gladstone said many, long years ago, "Something cannot be morally wrong and politically right." Pray that our political leaders will heed this advice.
Pictured right: Paul and Debra Bray at the grave site of Dewey Finley. Many of Debra's family members are buried in the historic Hoskins Cemetery.
#Educate - don't desecrate!