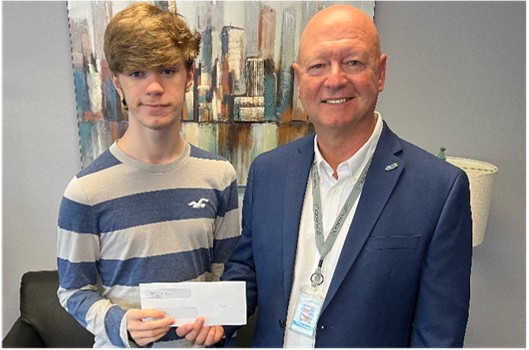 Terry Holland with Grace Health CEO Mike Stanley
CLAY COUNTY, KY - Grace Health is reporting that Terry Holland of Manchester, KY has been awarded a 2022 Kay Campbell Nursing Scholarship from Grace Health.
Terry, the son of Terry Lee Holland and Brittany Diane Smith Wagers, will receive a $3,000 scholarship award for his nursing career studies, which he will begin pursuing this fall following graduation from Clay County High School. Grace Health awards the Kay Campbell Nursing Scholarship to a student in each of its six service areas in Southeastern Kentucky. The scholarships are awarded to graduating seniors pursuing a career in nursing or a medical-related field.
The students are chosen on a competitive basis of high scholarship, community service and leadership, and promise of future contributions, preferably to the nursing profession.
An honor student, Terry was active in church and community organizations during high school. He chose a career in nursing because of his desire to become a bigger part of his community through healthcare. Terry will attend Eastern Kentucky University this fall where he plans to pursue a degree in nursing.
Grace Health was established in 2008 and is recognized as a Federally Qualified Health Center, the first of its kind in the multi-county area that it serves in Southeastern Kentucky. Grace Health provides complete healthcare services to Bell, Clay, Knox, Laurel, Leslie, and Whitley counties.
Along with its primary healthcare clinics, it also provides school-based health and preventive dental services. For over 50 years, community health centers have played a vital role in America's healthcare system by providing quality healthcare and services for underserved areas and populations.
According to the latest statistics from the Health and Resources Service Administration, the community health center program supports approximately 1,300 community-based and patient-directed health centers with over 9,000 sites and serves nearly 24 million people.