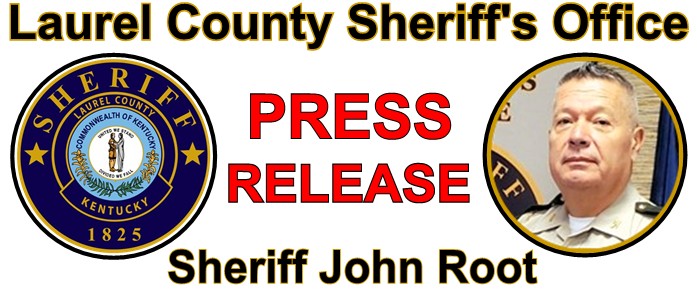 LONDON, KY (June 23, 2022) - Laurel County Sheriff John Root is reporting that the deceased occupant involved in the fatal crash on KY 1394 on Wednesday, June 22, 2022 is identified as: Jodie Bennett age 18 of London.
ORIGINAL RELEASE:
LONDON, KY (June 22, 2022) - Laurel County Sheriff John Root is reporting that: Laurel Sheriff's Traffic Crash Reconstructionist Lt. Chris Edwards along with Deputy Greg Poynter, Deputy Dustin Saylor and Deputy Travis Napier are investigating a single vehicle single traffic fatality which occurred on KY 1394 approximately 7 miles north of London on Wednesday afternoon June 22, 2022 at approximately 3:50 PM.
Sheriff's Investigators report that apparently a white colored Ford SUV traveling westbound on KY 1394 left the roadway, crashing through a fence traveling down an embankment and then rolled and flipped striking another section of fence before coming to rest at final position.
One occupant was pronounced deceased at the scene.
Two occupants were ejected and two entrapped in the vehicle.
One occupant was uninjured and three others were transported by medical helicopter to UK Medical Center:
One with serious life-threatening injuries, two with serious injuries.
Other agencies assisting at the scene included: East Bernstadt Fire and Rescue, London Laurel County Rescue Squad, Ambulance Inc. of Laurel County, the Laurel County Coroner's Office, PHI helicopter, Air Evac helicopter.
More information will be released following next of kin notifications.
Laurel Sheriff's Lt. Chris Edwards continues to investigate.