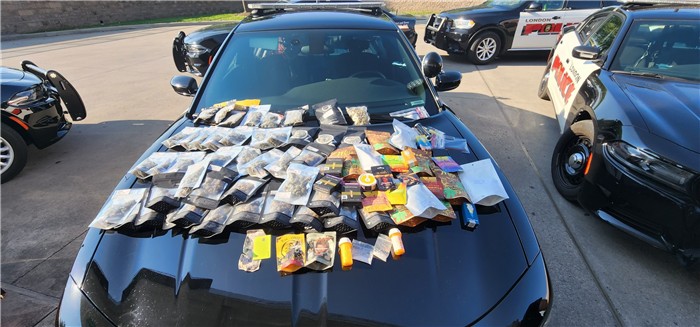 LONDON, KY - (July 17, 2022) - The London Police Department is reporting that two out-of-state suspected drug dealers picked the wrong I-75 exit at which to take a drug-induced nap.

On Saturday, July 16, 2022 a passersby noticed two men who looked like they were passed out in a vehicle parked in front of the Murphy Oil station in front of Walmart on KY 192.
Upon arrival, officers with the London Police Department spotted drugs in plain view in the vehicle.
Further investigation uncovered:
3.5 pounds of Marijuana
10 THC cartridges
Six packs of THC Gummies
2.5 grams of Cocaine
4.5 grams of Meth
The individuals were taken to the Laurel County Correctional Center on a variety of charges.
Names or any other details regarding the arrested subjects were not in this report.
Two dogs were also in the vehicle and were taken to the Laurel County Animal Shelter.
The significant drug bust was investigated by:
Ofc. Dylan Hampton
Ofc. Cody Faulconer
Ofc. Blake Evans
Sgt. Elbert Riley
Assisting was:
Cpl. Drew Jackson
Cpl. Justin Hopkins
Ofc. James Williams
Ofc. Joey Robinson