RICHMOND, KY - The Madison County Sheriff's Office is reporting via Facebook that on Tuesday, July 12th, 2022, Deputy Horn served a criminal warrant of arrest in reference to an ongoing investigation.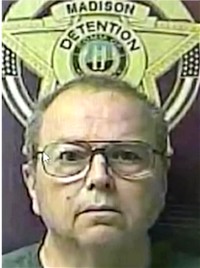 Mr. Jeffery Caudill was arrested on Tuesday, July 12th, 2022 in connection to the above mentioned investigation in which previously on Thursday, June 14th, 2022, Madison County Sheriff's Deputy Horn had been dispatched to a call for service referencing threats that had been made to:
Employees of the Madison County Child Support Office
Madison County Attorney's Office
Madison County Family Court
A Madison County Family Court Judge
Jeffery Caudill (right) was charged with:
• Intimidating a Participant In the Legal Process
• Terroristic Threatening, 3rd Degree
This individual was lodged in the Madison County Detention Center.
Photo of the accused is from the official Facebook account of the Madison County Sheriff's Office.