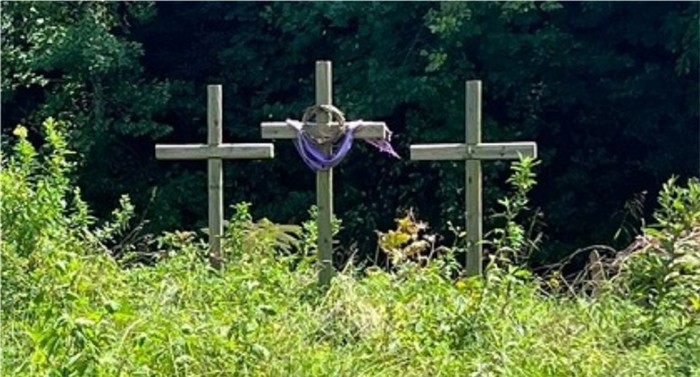 The crosses stand by a tributary of the Cumberland River in southeastern Kentucky
Staff Report:
HARLAN COUNTY, KY (August 12, 2022) - On Thursday, July 28th, 2022 a massive amount of rain fell across large portions of southeastern Kentucky and caused flash flooding. Those floodwaters resulted in the loss of homes and property felt by several communities throughout the region.
Official death toll numbers were updated yesterday, and the tragic loss of human life now stands at 39. Two weeks after the flooding and it is still hard to comprehend the overall amount of total damage and loss.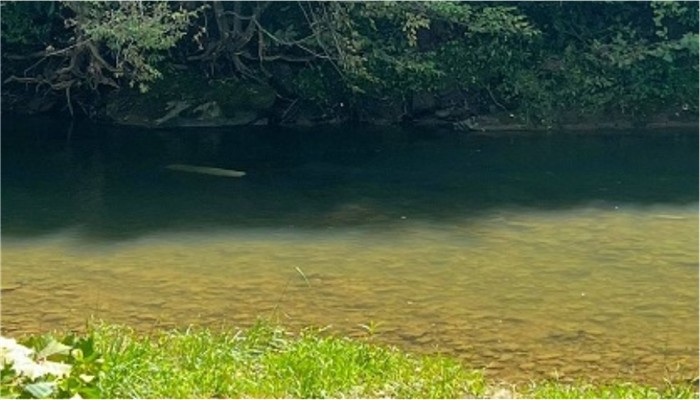 What this tributary of the Cumberland River looks like under normal conditions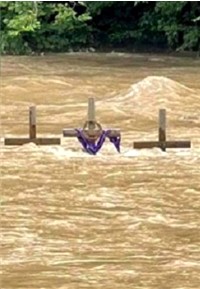 It is safe to say that life will never be the same for those effected. It is during times of tragedy though that we often find the most courageous examples of faith, hope and love. Today we have the opportunity to highlight an inspirational message of all three as depicted in a photograph that was taken on that fateful day.
The photographer, Glenda Ray Doyle, resides in Cumberland, a small town in Harlan County, Kentucky. She is the wife of Jacob Doyle who is the pastor of the Cumberland Church of God located at 503 Jackson Street. The afternoon of July 28th they went out to observe the flooding and to check on some of their parishioners. At a place close to the Blair community known locally as the baptizing hole, a tributary of the Cumberland River, they saw the crosses still standing as the floodwaters raged by them. These three crosses were constructed and placed by Eddie Polis. Having been baptized there herself, Mrs. Doyle was humbled to see the crosses and knew that everything would be ok. She snapped a picture of those crosses, posted it on social media and it soon went viral.
As news spread of the natural disaster it didn't take long for videos and images to be sought out and shared in our digital world. Most documented the destruction of property but this one had a message of hope that was felt far and wide. It is during difficult times in life that people rely so heavily on their faith.
Country music legend Randy Travis saw this image and decided to share it on his Instagram account. When Mrs. Doyle was made aware of this she was flattered but she only wanted to share one message. "The floodwaters have receded but those crosses are still standing, much like the people here in Eastern KY."
Mrs. Doyle has also graciously submitted pictures of the crosses after the flood waters have receded and what the tributary looks like under normal conditions. Those pictures are included for comparison. When times are tough and people remember the images of the destruction caused by flood, hopefully they will remember this image as well and know that there is always a source of hope.