FRANKFORT, KY (August 21, 2022) – On Thursday, August 18, 2022 the Kentucky Supreme Court issued an order that keeps Kentucky's Human Life Protection Act and Heartbeat Law in effect while the case before the Court is pending.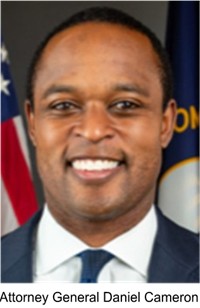 With this ruling, the Kentucky Supreme Court has left in place a ruling by the Kentucky Court of Appeals that allowed the laws to be enforced after a Jefferson Circuit Court Judge's order had temporarily blocked both laws.
"In Dobbs, the United States Supreme Court returned the issue of abortion to the elected representatives of the people of each state. So that the promises of Dobbs may be realized, and to avoid being embroiled in another 50 years of political acrimony, courts around the country, and here at home, must allow our policy makers in the General Assembly to speak for the people they represent," said Attorney General Cameron. "We are pleased with this victory for life and the rule of law and will continue to prepare for the arguments the Court has scheduled."
Kentucky's Human Life Protection Act took effect immediately upon the U.S. Supreme Court's decision in Dobbs v. Jackson Women's Health Organization, which overturned Roe v. Wade.
The Human Life Protection Act and the Heartbeat Law were quickly challenged by two Kentucky abortion facilities, Planned Parenthood and EMW.
###