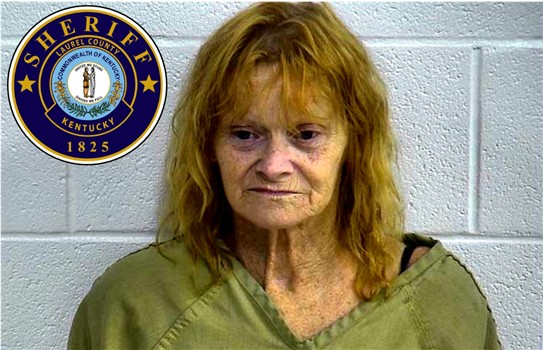 LONDON, KY (September 5, 2022) - Laurel County Sheriff John Root is reporting that: Laurel Sheriff's Deputy Tommy Houston arrested Mary Lou Hale age 59 of Highway 30 bypass, London on Saturday morning September 3, 2022 at approximately 8:54 AM.
The arrest occurred in a business parking lot off McWhorter Road approximately 2 miles east of London after deputies were dispatched to a complaint of a female subject apparently passed out behind the wheel there.
Upon arrival at the scene deputies located the suspect vehicle, a light blue Ford Focus and awakened the driver.
Deputies noted that the engine was running and the driver was in the driver's seat.
An investigation was conducted and the driver was determined to be under the influence.
Mary Hale was charged with:
OBSTRUCTED VISION AND/OR WINDSHIELD

OPER MTR VEHICLE U/INFL SUBST (189A.010(1C) - 2ND

FAILURE TO WEAR SEAT BELTS

NO REAR VIEW MIRROR

NO REGISTRATION RECEIPT

FAILURE OF NON-OWNER OPERATOR TO MAINTAIN REQ INS/SEC, 1ST OFF

FAILURE TO NOTIFY ADRS CHANGE TO DEPT OF TRANS

NO OPERATORS-MOPED LICENSE

IMPROPER EQUIPMENT
This individual was lodged in the Laurel County Correctional Center and according to JailTracker, is being held on a $1,500.00 CASH bond with a court date set for Wednesday, September 7, 2022 at 9:00 A.M.
Photo of the accused is courtesy of Laurel County Correctional Center.
Assisting on the investigation and arrest were: Laurel Sheriff's Deputy Zach Allen, Deputy Greg Poynter, and Deputy Austyn Weddle.