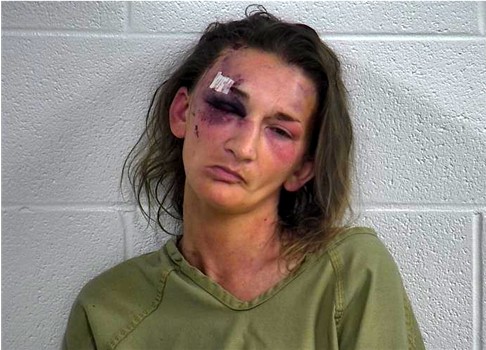 LONDON, KY - Laurel County Sheriff John Root is reporting that: Laurel Sheriff's Deputy Dustin Saylor along with Deputy Noah Ritchie, Deputy Byron Grimes, and Deputy Skylar McFarland arrested Nikki Reed–Hoskins age 34 of East Bernstadt on Sunday evening September 18, 2022 at approximately 6:40 PM.
The arrest occurred off old KY 30 approximately 3 miles north of London after deputies were dispatched to a complaint of an assault occurring off Highway 3094.
When deputies arrived at the scene, they learned that apparently a female subject had crawled out of the ditch there and created a disturbance assaulting a male and a female subject there.
Deputies learned that the female subject had then apparently left in a vehicle and was found at another residence where she allegedly assaulted a male subject there. Deputies located the female suspect laying on the ground bleeding from her face and detected a strong odor of alcoholic beverages emitting from her.
Deputies called for an ambulance and while awaiting the ambulance the suspect created a disturbance in the presence of bystanders including small children. Deputies detained the suspect in the police cruiser where at one point the suspect kicked Deputy Saylor several times.
The suspect failed to comply with EMS personnel that had arrived to transport her to the hospital.
Deputies transported her to the hospital and at the hospital the suspect became combative, screaming, yelling and cursing and spitting on hospital emergency room staff.
Upon release from the hospital the suspect was transported to the Laurel County Correctional Center.
Nikki Reed–Hoskins was charged with:
Assault – 4th degree
Assault – third-degree – police officer is victim
Disorderly conduct – second-degree
Indecent exposure – first-degree – first offense
Criminal trespassing – third-degree
Criminal mischief – third-degree
Menacing
The subject was also wanted on an outstanding Laurel District Court bench warrant of arrest charging failure to appear in court on charges of:
Assault 4th-degree
Leaving the scene of an accident
Disorderly conduct – second-degree
Alcohol intoxication in a public place
This individual was lodged in the Laurel County Correctional Center.
Photo of accused attached is courtesy of the Laurel County Correctional Center.