INDEPENDENCE, KY - Gubernatorial Candidate Eric Deters has released the following statement to members of the press after being barred from an event hosted by the Floyd County Republican Party.
To: Kentucky State Press
From: Eric Deters
(859) 250-2527
Date: September 21, 2022
RE: Floyd County Republican Party Event
The attached emails you might find interesting news.
I am actually not invited to even attend the event.
First Fancy Farm, now this.
It only serves as a reminder I am the only non-career, non-establishment Republican candidate for Governor.
I truly believe this helps my campaign.
Amber Burchett is allowing my opponents to keep me from events. I find it comical how much they fear me. What a compliment! LOL.
I'm going to hold a free event the same day and time. We will see who has the most people show up to their event- them or me.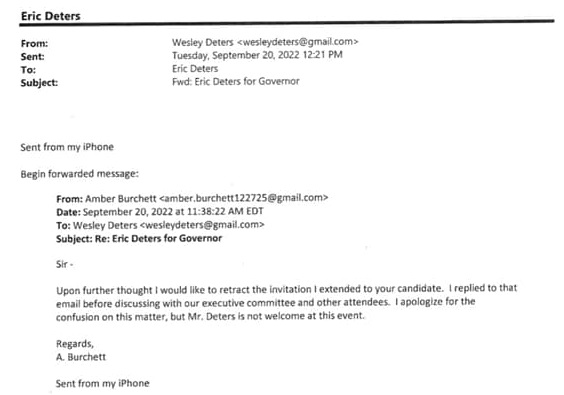 (Retraction of Invitation to Event and "not welcome")
###
Headline Photo Courtesy of Eric Deters for Governor
Bottom Photo (one of the emails mentioned in release) Courtesy of Eric Deters for Governor social media (Facebook)
NOTE: NO POLITICAL ENDORSEMENTS ARE EXPRESSED OR IMPLIED