BARBOURVILLE, KY (ClayCoNews) - In a recent press release, the Knox County Sheriff's Department reported that on Monday, November 7, 2022, Knox County Deputy Jesse Smith had served a parole warrant at a residence on KY 3439.
Arrested was 45-year-old Michelle Jackson of Olive Hill, Kentucky.
According to the press release, Deputy Smith states that after being transported to the Knox County Detention Center, Ms. Jackson was standing outside his patrol vehicle when he saw her pull baggies of suspected Methamphetamine from her pants attempting to drop them to the ground.
Ms. Jackson had been asked multiple times by the deputy and jail staff if she had anything on her and she said no.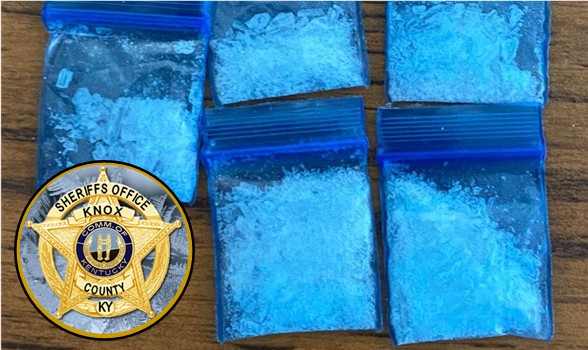 Baggies of suspected Methamphetamine result in more charges.
In addition to her parole violation warrant, Michelle Jackson was charged with:
Trafficking in a controlled substance - 1st degree, 1st offense (Methamphetamine)
Tampering with physical evidence
Promoting contraband - 2nd degree
Photos are from the Knox County Sheriff's Department.