WASHINGTON, DC – Before being sworn in for his 22nd term representing the people of southern and eastern Kentucky, U.S. Rep. Harold "Hal" Rogers (KY-05) fulfilled a historic role for the nation. As Dean of the House, Congressman Rogers had the honor of swearing in the new Speaker of the House, Rep. Kevin McCarthy.
The only other House Dean from Kentucky was the late Congressman Linn Boyd from 1849 to 1855. He also served as Speaker of the House. Kentucky's Boyd County was named for Congressman Boyd.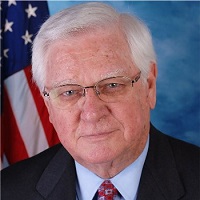 "As Dean, I will encourage Speaker McCarthy to be decisive but fair; to bring wisdom and good judgement; to preside with great dignity; to invite and encourage comity and good will; and to listen and hear the wishes of us, the direct representatives of the citizens of the people of America," said Congressman Rogers. "By the same token, it is our responsibility to render to the Speaker our support and to work with him in good faith for the benefit of the American people and the future of this nation."
As his first official duty, Speaker McCarthy swore in the Members of the 118th Congress, which includes 222 Republicans and 212 Democrats. One seat remains open after the death of Rep. Donald McEachin of Virginia.
Congressman Rogers now begins his 43rd consecutive year serving Kentucky's Fifth Congressional District.
"Over the last four decades, we have made great strides in our region by increasing access to clean water and wastewater resources two-fold, improving access to better healthcare and workforce training, leading the nation in combatting the opioid epidemic, expanding rural broadband and enhancing our roads," said Congressman Rogers. "We've had great success in flood control along the Cumberland River, and I am determined to do the same in the Kentucky River valley to ensure our people are protected from future floods"
"As we continue to help families and communities recover from the Eastern Kentucky flood last year, I will also continue to work on economic development opportunities across our expanded 33-county region," continued Rogers. "We have a lot of work ahead of us and I am grateful that the people of southern and eastern Kentucky have once again placed their faith in me to continue securing the federal dollars necessary to get the job done."
For more information about his work in Washington and at home in southern and eastern Kentucky, visit halrogers.house.gov or follow him on social media.