BARBOURVILLE, KY (January 30, 2023) - The Knox County Sheriff's Department is reporting that between December 3, 2022, and December 8, 2022, several thousand feet of TV, internet, and telephone wire belonging to Windstream Communications was removed from utility poles in the Flat Lick area.
The theft of the wire resulted in the loss of TV, internet and telephone service along Warrior's Path, Lick Branch and Sandy Branch.
According to Windstream Communications, the theft of the wire, damage caused and repair costs amounted to over $41,000.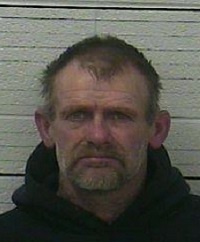 Knox County Sheriff's Office Detective Andrew Wilson investigated the theft complaint. During his investigation, he identified a suspect, Tony Gray of Flat Lick.
Deputies traveled to the residence of Tony Gray on Lick Branch Road where they observed several feet of metal wire wrapping as well as the remains of burnt copper wire on the ground in his yard.
As a result of his investigation, Detective Wilson obtained a Knox County Arrest Warrant for Tony Gray.
On January 27, 2023, Sgt. Bobby Jones arrested Tony Ray Gray 52 of Flat Lick, KY on the arrest warrant.
Tony Gray was charged with:
Trespass of Key Infrastructure Assets
Unlawful Act Relating to Acquiring Metals-Injury to Property-over $3000
Criminal Mischief-1st Degree
Theft by Unlawful Taking or Disposition-over $10,000
In addition, Tony Gray was wanted on two (2) Knox County Bench Warrants for:
Failure to appear on Theft by Unlawful Taking or Disposition
Contempt of Court
Setting Fire on his Own Land Without Taking Precautions
Fire Hazard Season-Burning Before 4:30 P.M. charges
Mr. Gray was also wanted on a Bell County Bench Warrant for:
Failure to appear on several traffic violations
Tony Gray was lodged in the Knox County Detention Center.
Photo of the accused is courtesy of the Knox County Detention Center.