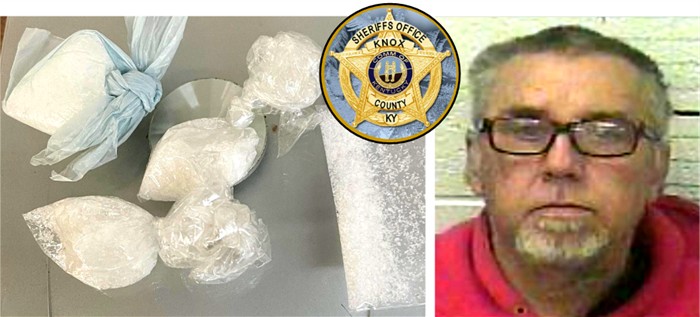 BARBOURVILLE, KY - The Knox County, Sheriff's Department is reporting that on Friday, February 3, 2023, at approximately 12:35 A.M, Knox County Deputies were patrolling in the Swan Pond area of Knox County when they observed a male subject run out of a residence on Terrapin Hollow Road.
When the deputies gave commands for the man to stop, he continued to flee on foot.
The man was apprehended and identified as 62-year-old Randall Perkins of Swan Pond, KY.
While Mr. Perkins was being questioned about his actions, the deputies located several plastic bags of suspected Methamphetamine in his possession.
Deputies seized the contraband, arrested Mr. Perkins and transported him to the Knox County Detention Center.
Randall Perkins was charged with:
Trafficking in Controlled Substance-1st Degree
Fleeing or Evading Police-2nd Degree
This individual was lodged in the Knox County Detention Center.
Photo of seized contraband and the accused is from the Knox County, Sheriff's Department.