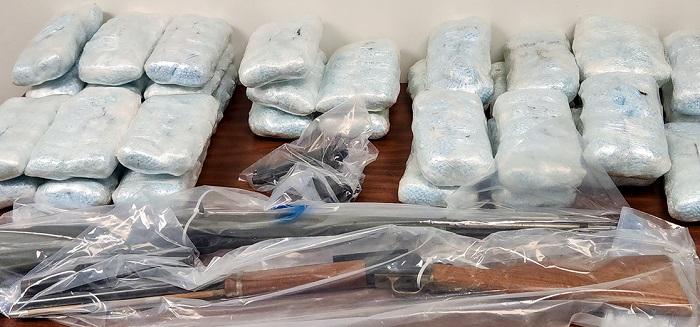 Fentanyl pills seized by Detectives with the Arizona Department of Public Safety in Tucson on Thurs., Feb. 2, 2023 - Photo Credit: AZDPS
FRANKFORT, KY – Attorney General Daniel Cameron joined a coalition of 21 attorneys general in sending a letter urging President Biden and Secretary of State Blinken to designate certain Mexican drug cartels as Foreign Terrorist Organizations (FTO). This action will better equip state and federal law enforcement agencies to combat the cartels responsible for bringing deadly synthetic opioids into the United States.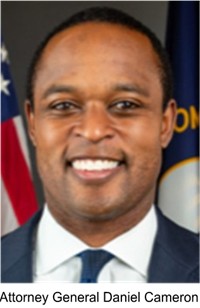 "Pushing back against violent drug cartels responsible for trafficking fentanyl into the United States is essential to stemming the tide of the opioid epidemic," said Attorney General Cameron. "We've called on the Biden Administration to designate certain Mexican drug cartels as Foreign Terrorist Organizations to equip law enforcement with the tools necessary to protect Kentuckians and Americans from this deadly scourge."
According to the CDC's latest report, more than 100,000 Americans died from drug overdoses, and synthetic opioids like fentanyl were responsible for more than 65 percent of these deaths. In 2021, 2,250 Kentuckians lost their lives to overdose and over 70 percent of those deaths involved fentanyl.
In their letter, the attorneys general explain that cartels are fueling the opioid epidemic by importing raw materials from China, using them to produce deadly synthetic opioids at a low cost, and trafficking these drugs across the southern border and into our communities. In fact, "between October 2021 and June 2022, U.S. Customs and Border Protection seized 8,425 pounds of fentanyl being smuggled into the United States."
The coalition also points out that while the illegal importation of chemical agents like fentanyl pose a grave danger to all Americans, the known links between the cartels and other foreign terrorist groups like Hezbollah pose a significant threat to our national security.
To address this crisis, the coalition calls on the Biden Administration to "take decisive action against the Mexican drug cartels by designating the Sinaloa Cartel, the Jalisco New Generation Cartel, and other similarly situated cartels as foreign terrorist organizations under 8 U.S.C. § 1189."
Designating major cartels as FTOs will give state and federal law enforcement agencies more authority to freeze cartel assets, deny entry to cartel members, and allow prosecutors to pursue harsher punishments for those who provide them material support.
Four months ago, Attorney General Cameron joined a bipartisan coalition of 18 attorneys general, urging President Biden to classify fentanyl as a Weapon of Mass Destruction (WMD). So far, the Biden Administration has not responded to this request.
Attorney General Cameron was joined by attorneys general from Alabama, Alaska, Arkansas, Florida, Georgia, Indiana, Iowa, Kansas, Louisiana, Montana, Nebraska, New Hampshire, Ohio, Oklahoma, South Carolina, Tennessee, Texas, Utah, Virginia, and West Virginia in sending the letter.
To read the letter, click here.
###