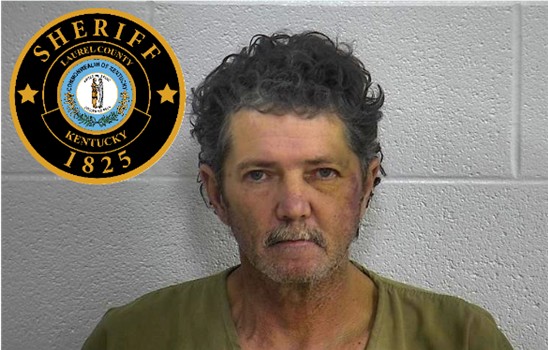 LONDON, KY (February 13, 2023) - Laurel County Sheriff John Root is reporting that: Laurel Sheriff's K-9 Deputy Brian France arrested Gary Dean Smith age 55 of East Laurel road, London early Thursday morning February 9, 2023 at approximately 4:52 AM.
The arrest occurred off East Laurel Rd., approximately 6 miles east of London following a traffic pursuit that began on East KY 80 at Blackwater Road approximately 10 miles east of London. Deputies were conducting a traffic safety checkpoint there when a white Chevrolet Tahoe stopped short of the checkpoint and pulled into a driveway.
When Deputy France along with London City Police Officer Joey Robinson attempted to check the vehicle it fled through the yard around the residence traveling east on KY 80 into Clay County as the driver waved a machete out the window at deputies.
As the suspect vehicle fled into Clay County the driver observed a Clay County Deputy approaching and veered into his lane and attempted to strike Clay County Sheriff's Deputy Wes Brumley's cruiser head-on. The Clay County police cruiser had to leave the roadway striking a culvert in an attempt to avoid being struck causing significant damage to the police cruiser.
The suspect vehicle continued on KY 80 into Manchester turning back onto Hal Rogers Parkway traveling westbound back into Laurel County nearly striking as many as 5 vehicles as it veered into the opposing lane and the suspect vehicle on numerous occasions attempted to ram Laurel deputy cruisers.
London city police deployed spike strips and a short distance later Kentucky state police also deployed spike strips attempting to stop the vehicle.
It continued onto Watkins Road onto Flat Lick Road and lost control as a result of being spiked traveling into a field and became disabled.
The suspect fled on foot and following a foot pursuit the suspect scuffled with deputies attempting to kick and punch Deputy France before being taken into custody.
Gary Smith was charged with:
Two counts of wanton endangerment – first-degree – police officer is victim
Wanton endangerment – second-degree
Fleeing or evading police – second-degree – on foot
Fleeing or evading police – first-degree – motor vehicle
Disorderly conduct – second-degree
Resisting arrest
In addition, Clay County Sheriff's deputies charged the suspect with:
Attempted murder of a police
Other criminal and traffic charges
Gary Dean Smith was transported to the hospital for injuries sustained in the traffic crash and later lodged in the Laurel County Correctional Center.
Photo of accused attached is courtesy of the Laurel County Correctional Center.
Agencies assisting in the 27 mile pursuit included London City Police, Clay County Sheriff's office, Manchester City Police department, and Kentucky State Police.