WILLIAMSBURG, KY - The Whitley County Sheriff's Department is reporting that on Friday, February 24, 2023, Deputy Brentley Patrick and Deputy Jarrett Carr, with assistance from the Williamsburg Police Department and Kentucky State Police, were at an address in Williamsburg attempting to serve a wanted fugitive with multiple outstanding warrants for her arrest.
While investigating the whereabouts of the fugitive, no adult family member was willing to report whether or not the fugitive was inside the house.
A very brave and honest toddler stood up, put his hands on his hips, and stated "it is good to be honest… we shouldn't lie, she is inside the room next to the bathroom!"
Deputies were then able to locate the fugitive, Tina Marie Hicks, age 45 of Williamsburg, KY hiding in the described location. She was served with the outstanding warrants, taken into custody and transported to the Whitley County Detention Center.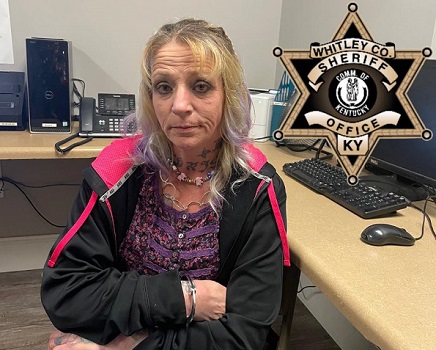 Tina Marie Hicks
Deputy Patrick commended the toddler for his integrity and service to the community.
Tina Hicks was served with two (2) outstanding Whitley Circuit Indictment Warrants charging:
Possession of Methamphetamine
Drug Paraphernalia
Hicks was also served with:
Four (4) other outstanding district court warrants
This individual was lodged in the Whitley County Detention Center.
Photos of the accused are courtesy of the Whitley County Sheriff's Department and the Whitley County Detention Center.
WPD officers, Bryson Lawson, Steven Hill and Chad Foley along with KSP Trooper Logan Mallory assisted on scene.
_________________
The following is a statement from the Whitley County Sheriff Department on their Facebook page regarding the toddler.
For clarification: The child involved was visiting family. He was healthy, intelligent, and in no way appeared to be abused. He was just at the wrong place, wrong time. If deputies thought he was a potential victim of repercussions, it would have been dealt with.