MULTNOMAH COUNTY, OR - The Multnomah County Sheriff's Office is reporting that a Multnomah County Grand Jury indicted 30-year-old Sean Ryan Bahrman on four counts of unlawful use of a weapon, four counts of menacing, and one count of criminal mischief in the second degree, on Monday, February 27th, 2023.
Following the completion of this court process, we are releasing additional information based on the current investigation.
On February 18, 2023, at 1:40 A.M., Multnomah County Sheriff's Office (MCSO) patrol deputies received a report of a subject firing a weapon at a business in the 25100 block of Southeast Stark Street in Troutdale. The 911 caller said that a man used a weapon to shoot windows at a business, in which several people were inside, and at unoccupied vehicles in the parking lot. Dispatchers told the caller to stay inside the building and shelter in place.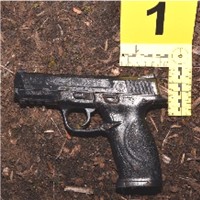 As MCSO deputies and Gresham Police Department (GPD) officers were responding, the caller told the dispatcher they were unsure if the weapon was a real firearm. When law enforcement officers arrived, they observed a man, later identified as Bahrman, in the business parking lot holding what appeared to be a black handgun, (see Photo 001- right). MCSO deputies reported the suspect fired the weapon at them.
Deputies and officers attempted to de-escalate the situation by staying at a distance and giving verbal commands to drop the weapon. Bahrman did not follow the orders and led law enforcement officers northward on a walking path. While moving north, toward a neighborhood on Southwest 29th Street, Bahrman placed the weapon on the ground, and then immediately pulled out a second weapon.
For approximately 10 minutes, law enforcement officers continued to give verbal commands. Bahrman did not obey any of the commands and waved the weapon in multiple directions.
When Bahrman reached Southwest 29th Street, he pointed the weapon at a residential home and at himself. Law enforcement officers continued providing verbal orders and warnings. When Bahrman pointed the weapon at deputies and officers at least twice, a Multnomah County sheriff's deputy fired a single shot, hitting the suspect in the left abdomen.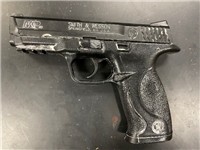 Law enforcement officers continued to give Bahrman commands to relinquish the weapon, (see Photo 002-left). Bahrman complied and deputies and officers immediately rendered aid. An ambulance waiting nearby transported Bahrman to the hospital for non-life-threatening injuries. After his injuries were treated, Bahrman was released from the hospital and booked into the Multnomah County Jail later on February 18. No one else reported injuries during the incident.
The East County Major Crimes Team (MCT) was activated to perform the shooting investigation. MCT consists of members from the Multnomah County Sheriff's Office, Gresham Police Department, Oregon State Police, Port of Portland Police Department and the Multnomah County District Attorney's Office.
During the investigation, it was determined that both weapons were replica firearms and fired ball bearings.
The deputy involved in the shooting is Sergeant David Jackson, a nine-year veteran of the Sheriff's Office, who's assigned to the Patrol Unit. Jackson remains on critical incident leave, which is standard protocol.
MCT continues its investigation into the deputy-involved-shooting, and no further information will be released until future court processes are completed.