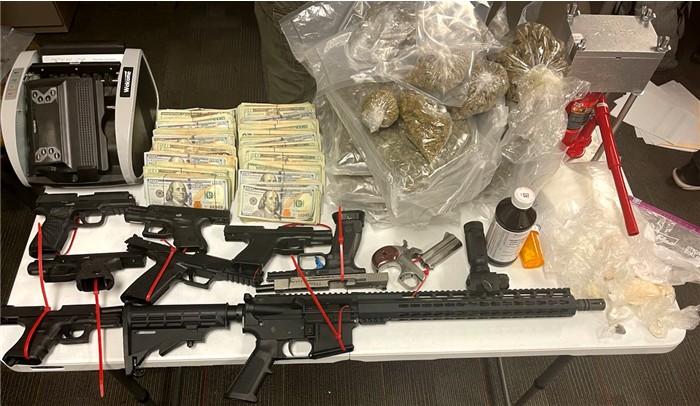 NASHVILLE, TN - The Metropolitan Nashville Police Department (MNPD) is reporting that a two-month MNPD investigation into narcotics distribution that began in the Edgehill neighborhood culminated in four arrests and the seizure of nine guns (two stolen), 1.6 pounds of cocaine/fentanyl, 8.5 pounds of marijuana, $38,000 cash, a kilogram press and a money counting machine.
Midtown Hills Precinct detectives on Tuesday, March 7,2023 with the assistance of MNPD narcotics detectives, North, South, & East Precinct detectives, and TBI's High Intensity Drug Trafficking Area (HIDTA) task force, executed two residential search warrants at 1001 Meridian Street and 2546 Willow Branch Drive where the drugs and guns were recovered.
Malik Armstrong, 37, of North 2nd Street, was arrested Tuesday morning after his alleged involvement in several narcotics sales. He was in possession of a stolen pistol and narcotics.
He is charged with eight counts of felony drug possession, felon in possession of a weapon, theft of a firearm, and possession of a gun during the commission of a felony.

L to R: Malik Armstrong, Ceonta White and Reganah Bright
Three others, Ceonta White, 19, Reganah Bright, 21, and a 16-year-old male are charged with evidence tampering and accessory after the fact.
Prior to the execution of the search warrant, the juvenile was seen exiting the Willow Branch Drive residence with a duffle bag and a backpack. A short time later, a black Chrysler 200, pulled up to the residence and White exited the vehicle. He began helping the 16-year-old load items into the car. Bright was also inside the Chrysler. They were taken into custody before driving off.
Photos of seized contraband and the accused are from the Metropolitan Nashville Police Department.