SOMERSET, KY - Pulaski County Sheriff Bobby Jones is reporting that on Tuesday, March 7, 2023, three Pulaski County men were arrested following an investigation traffic stop.
The investigation began when Detective Joey Johnson received information that Eric Nicholas, age 50 of Eubank, who was being sought on a Federal Indictment for Possession with the Intent to Distribute 500 grams or more of Methamphetamine was living at a residence off of Smith Road.
Nicholas Detective Lieutenant Daryl Kegley was able to locate the residence on Smith Road. Narcotics Detectives began conducting surveillance on the residence.
While surveilling the residence, Detectives observed a blue SUV stop at the residence. A male passenger exited the vehicle and entered the residence. The passenger exited the residence a short time later and the vehicle left.
Detective Trent Massey conducted a traffic stop of the vehicle on Highway 27. While on scene of the traffic stop, Chief Tony Duncan, Eubank Police Department, arrived at the scene to assist on the stop.
Detective Massey deployed his K-9 "Leo" to conduct a walk around the vehicle. Following the walk around, Detective Massey conducted a search of the vehicle and the occupants. Detective Massey was able to locate Methamphetamine in the pocket of the driver, James L. Wolsey, age 45, of Somerset.
While on the traffic stop, Detective Massey discovered the passenger, Johnny B. Decker, age 46, of Burnside, had active warrants for his arrest. Both Wolsey and Decker were taken into custody.
During the time of the traffic stop, Detective Tan Hudson continued surveillance of the Smith Drive residence. Detective Hudson observed Nicholas exit the residence and enter into the driver's seat of a 2004 Pontiac Bonneville. Detective Hudson began to follow Nicholas on Highway 865 in the Eubank community.
Detective Hudson attempted to conduct a traffic stop of the vehicle on East Highway 70. Nicholas failed to stop at the direction of Detective Hudson and continued eastbound on Highway 70, traveling at approximately 45 MPH. After passing through the intersection of East Highway 70 and Highway 39, Detective Hudson and Detective Lt. Kegley attempted to stop the vehicle, again, on Highway 70 when Nicholas made an erratic turn and began travelling westbound on Highway 70.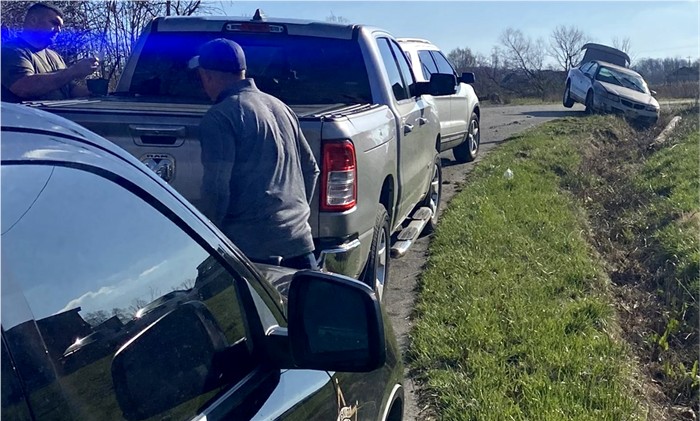 Nicholas eventually lost control of his vehicle on Estill Hackney Road, where his vehicle became lodged in a ditch. Nicholas was taken into custody without further incident.
Following the pursuit, a search warrant was issued for Nicholas' residence. Upon searching the residence, Detectives located:
Approximately 735 grams of Methamphetamine
Digital scales
Baggies
A handgun
A sum of cash
Paraphernalia
Eric Nicholas was arrested on the scene and charged with the following:
1. Parole Violation (Warrant)
2. Possession with the Intent to Distribute 500 grams or more of a mixture or substance containing a detectable amount of Methamphetamine (Warrant)
3. Fleeing or Evading Police, 1st Degree (Motor Vehicle)
4. Disregarding Stop Sign
5. Speeding 26 MPH or >
6. Failure to or Improper Signal
7. Reckless Driving
8. Improper Passing
9. Trafficking in Controlled Substance 1st Degree, 2nd Offense > 2 grams Methamphetamine (enhanced)
10. Trafficking in Marijuana (less than 8 oz.) 1st Offense (enhancement)
11. Drug Paraphernalia – Buy/Possess
12. Possession of a Handgun by Convicted Felon
James Wolsey was arrested and charged with the following:
1.No Tail Lamps
2. Possession of Controlled Substance 1st Degree, 1st Offense (Methamphetamine)
Johnny Decker was arrested and charged with the following:
1. Failure to Appear (Wayne County Circuit Court Bench warrant)
2. Bail Jumping 1st Degree (Pulaski Circuit Court Indictment)
3. Failure to Appear (Pulaski Circuit Court bench warrant)

L to R: Eric Nicholas, James Wolsey and Johnny Decker
All three subjects were transported and lodged at the Pulaski County Detention Center.
The case remains under investigation by Detective Lt. Daryl Kegley of the Pulaski County Sheriff's Office Narcotics Division.
The Pulaski County Narcotics Division was assisted in the investigation by the Pulaski County Sheriff's Office Criminal Investigation Division, Federal Bureau of Investigation, Eubank Police Department, and the Lake Cumberland Area Drug Task Force.
Sheriff Bobby Jones asks if you have any information about drug activity or any crime to contact our tip line at 606-679-8477.
You can remain anonymous. You can also leave a tip on our webpage at http://www.pulaskisheriff.com.
Photos from The Pulaski County Sheriff's Office.